Spread across the counties of Douglas, Jefferson and Arapahoe, Littleton is part of the Denver, Aurora and Lakewood metropolitan area. Just a few short miles away from downtown Denver, its residents frequently work in adjacent Denver and surrounding cities. Of course, considering that Littleton has a broad base of local employers as well, it would be unfair to simply consider it a bedroom community for the Mile High City. Major Littleton employers include Accountemps, Wells Fargo, Dish Network and Teletech.
Overall, locals find employment in the management field of business and science companies as well as in the office and retail environment. Education, health care as well as social service programs are among the professions most frequently chosen. That said, Littleton also has a thriving small business sector that serves to provide alternatives to larger companies or supports their product manufacture, installation and servicing. It is against this economic backdrop that contractors and other businesses commission the vehicle graphics Littleton, CO, consumers pay attention to.
Advertising with Vehicle Wraps & Graphics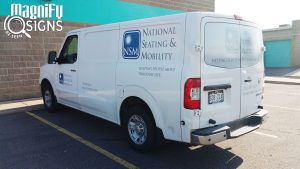 Standing out from other companies in your niche is of the utmost importance since the competition from local businesses as well as those from the adjacent cities is fierce. Add to this the unincorporated areas – examples include Highlands Ranch, Ken Caryl and Columbine – and it makes sense that staying in business calls for a mobile marketing solution that introduces as many residents to your service or product as possible. Remember also that Littleton is home to a seminary and community college population, which is further enhanced by the large number of students attending college or university in Denver. Many of the college graduates settle down in and around Littleton after graduation, which adds to the pool of possible consumers.
Companies have gotten creative with the use of vehicle vinyl graphics and lettering. For example, the Western Welcome Week is a collection of more than 40 events that draw huge crowds. These crowds include members of the local community, residents from adjacent cities and tourists. Introducing your business with stationary signage is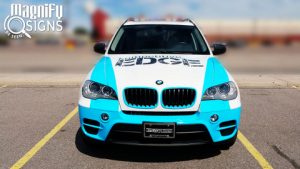 not always a good option. Using your vehicle as a mobile marketing powerhouse, on the other hand, makes a lot more sense and reaches a large number of potential customers. When you have more than one vehicle treated, you maximize your exposure. In fact, you can ensure favorable exposure simply by parking your vehicle as close to the festivities as possible.
Other special events that allow for a display of your marketing message include annual holiday celebrations and street fairs. In doing so, you never know when you catch the attention of a famous local resident whose commerce would be a great advertising opportunity. For example, did you know that body builder Heather Armbrust and baseball player Dave Dravecky are among the Littleton citizenry? At Magnify Signs, we delight in working with business owners to reach as many customers as possible. When you need the vehicle graphics Littleton, CO, residents cannot help but notice, our graphic artists are here to help. Contact us today to learn more about your product options and design choices.