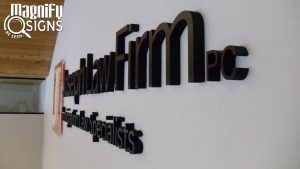 Dimensional letters are excellent products for the fulfillment of many interior signage needs. Although most of our business clients instantly think about lobby signs, there is so much more that these letters can do!
Wayfinding, Inspiration and a Whole Lot More
Dimensional letters easily separate the main hospital wing from the corridor dedicated to specialty offices. In an education setting, this lettering makes wayfinding a snap for those in search of the auditorium, cafeteria and administrative offices. Inside an office, letters spell out mottos, tag lines and motivational sayings. The latter you find most frequently in the training areas and employee break rooms. Inside elevators and stairwells, these letters brand the company and generate name recognition. Label offices and do away with a directory simply by spelling out departments and names of service providers in the lobby.
Material Options
Sign foam is an excellent material for the manufacture of dimensional letters. It is dense, which creates a solid look. Paintable in any color, it easily displays your company's colors. When you want a unique look that features gradually changing colors and symbols, we cover the foam with a digitally imprinted vinyl overlay. Other display options include the use of acrylic or metal laminates. With foam, the thickness can go up to three inches, which allows for very dramatic 3D displays.
Acrylic and metal themselves are good candidates for the manufacture of dimensional letters as well. Thicknesses usually reach one inch. Metal finishes include brushed or polished appearances. Bronze, aluminum, stainless steel and brass are among your options. Acrylic is paintable and easily takes on any appearance you like. PVC is another product that some of our business clients order. It comes in a broad range of stock colors but is also paintable. Our clients like to use this product for the creation of wayfinding signs that feature dimensional letters.
Putting Together Your Order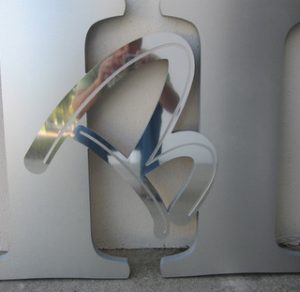 Of course, you are not limited to the standard material options. Depending on your niche, you may prefer to have your letters manufactured from glass, marble or bamboo. The latter is a favorite of spa owners, who like the combination of a natural product with their venues' vibes. If you are thinking of changing the overall look and feel of your store or office with the combination of dimensional lettering and whole-wall murals, we can help you there, too.
The professionals at Magnify Signs serve the business communities in and around Denver, Englewood, Littleton, Lakewood, Centennial and Colorado Springs. Call us today to get started on your order.