There is no one-size-fits-all approach when it comes to interior wayfinding signs. These products are as intricately involved in your overall branding as your lobby sign. In fact, you now have a broad range of options open to you.
Overhead Signage
Overhead directional signs are ideal solutions for venues with busy corridors or tall shelves. Mount them directly to the ceiling or perpendicular to your wall. These products identify the locations of the elevators, seating sections in arenas, various rooms and departments within a school or church setting as well as products in a retail store.
Wall-mounted Products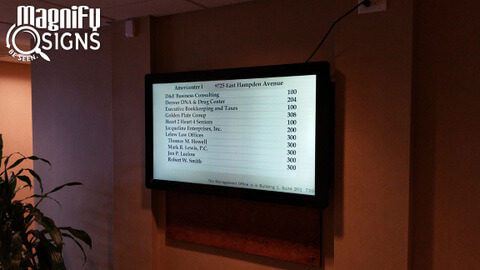 The majority of interior wayfinding signs are mounted directly to walls. These include markers that identify room functions, suite signs, directional signs with arrows, wall directories and identifiers that highlight the location of amenities open to the public.
Material Selection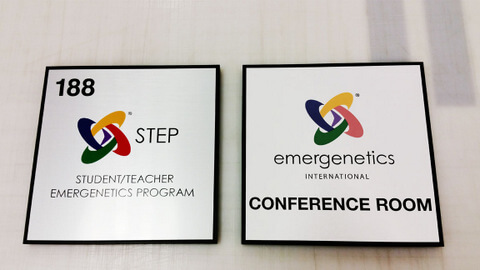 Acrylic is by far one of the most frequently requested materials. It has the advantage of layering well and creating artistic designs that fit into a similar office setup. Vinyl banners are suitable for temporary directional needs. You might experience these during the first week of school or during a special sales event. Aluminum works well with a vinyl overlay. These signs are large, fit snugly to the wall and let you spell out your message on a larger surface. Die-cut vinyl lettering is another material option.
Unusual Signage
Sometimes, only the somewhat unusual will do. Consider the use of floor graphics to combine a strong co-branding or marketing message alongside your wayfinding information. Wall graphics or fabric wall displays pop and succeed at catching the eye right away. This makes them outstanding product solutions for schools and medical office buildings. Large vinyl wall graphics suit industrial settings and warehouse stores with pillars.
Identify the location of the restroom, storage area and product pick-up dock. Some business clients like to incorporate the wayfinding message with their furniture by adding graphics to seating groups. This avant-garde move pays off big when it is also the approach you took during your interior design.
ADA Signage
A number of wayfinding signs have to meet the requirements of the Americans with Disabilities Act (ADA). Our experts work with you to discover which signs are affected in your setting, how to mount them and how to design them to still fit in with your marketing and branding messages.
Commission Interior Wayfinding Signs Today
The graphic artists at Magnify Signs work with business clients in and around Denver, Englewood, Littleton, Lakewood, Centennial and Colorado Springs. Call us today to get started on your signage order.