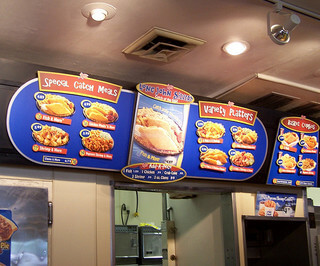 The menu board is quickly becoming the interior signage solution of choice for a broad range of businesses. What was in the past reserved only for the restaurant trade is now useful in many more settings. For example, operators of nail salons, spas, mall kiosk eateries, auto service stations and floral shops love the fact that listing products (or services) and prices has never been simpler.
With so many different uses for the menu board, its look and design has undergone a broad range of customizations. What are your options?
Traditional look. The traditional look features a black backdrop and white print. Fanciful fonts give the impression of a blackboard imprinted with the information. Aluminum is a favorite material since it allows for the use of colorful vinyl overlays.
Specialty shapes. Aluminum, PVC and corrugated plastic are outstanding material selections for specialty shapes. Choose your iconic logo as the backdrop for the information or instead pick a surfboard or other recognizable shape that ties into your

décor

or business model.
Display options. Usually, we install the menu board behind your bar or reception desk. Add lighting for best results. For those who want to reel in foot traffic, a secondary menu board installed on the building's exterior is a great option, too. Some of our most successful business clients commission a standard menu board for the interior, a smaller one for the exterior and an A-frame for use in the flow of foot traffic.
Of course, nowadays the menu board also fulfills another role: health advisor. Local labeling laws require businesses to display certain aspects pertaining to their products. Our professionals know what laws are currently in effect. We help you to meet the requirements. By the way, this is an excellent selling point option as well. Even if some labeling is not required, doing so may be to your advantage and favorably compare to the competition's boards.
Contact the professionals at Magnify Signs to discuss the design, manufacture and installation of your menu board. We serve the business communities in and around Denver, Englewood, Littleton, Lakewood and Centennial. We welcome the opportunity to visit you for a client consultation and look at some of the artwork that you already have on hand.
We take measurements of the space and help you decide on the ideal display setup. If you are running a franchise, we can work with the franchisor's graphics to create the must-have signage that puts you in compliance with your agreement. Call us today to get started.