One of the most innovative signage products currently on the market does not rely on channel letters or aluminum signage bodies. Rather, it focuses on the artistry that digitally imprinted high-quality vinyl brings to your space. Window, wall and floor graphics have the power to change the atmosphere of your business venue virtually overnight. In addition, they brand, market and advertise your products and services.
Window Graphics Brand and Show off Products
What do you want passersby to know about your business? If you operate the local bistro hotspot, you want them to know about the dish that everyone on Yelp raves about. When you are a boutique owner, you undoubtedly want to make sure that consumers learn about the labels you carry and the specialty sales you conduct.
Window graphics make it possible to bring this information to the exterior without altering your building signage. Rather, these signage products enhance the markers that you have installed on the outside.
Wall Graphics Beautify and Point the Way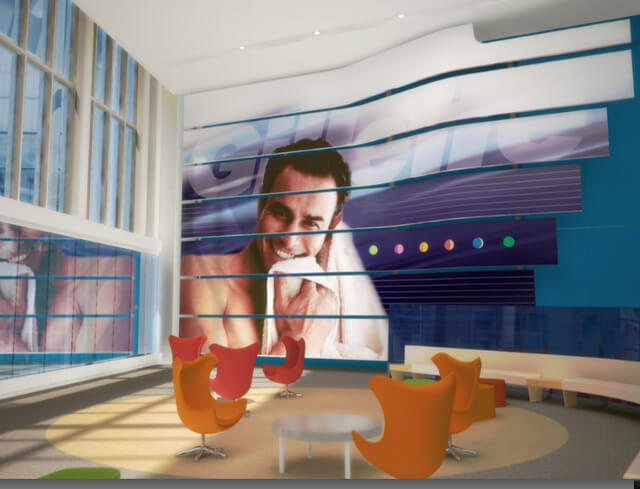 Wayfinding has never been easier than with the installation of wall graphics. Restroom signage, the location of the customer service desk or the way to a school's classrooms or auditorium are easy to pinpoint with the use of wall graphics that contain directional arrows and venue descriptions.
Aside from wayfinding, you can also use these graphics to completely change the interior look of a restaurant, office, classroom or any other locale. Sporting goods retailers have known this trick for a long time and use it successfully to market hiking boots, running shoes and similar products.
Floor Graphics Turn Passersby into Shoppers
When you want to reel in more foot traffic, the easiest way to go about it is the use of floor graphics. Transform the area right in front of your store with a colorful look. Doing so immediately grabs the eyes of passersby. This unusual display heightens the interest in your storefront as well as your products or services. Display graphics act as a hook and bring interested consumers into your venue where they then become shoppers.
Putting Together a Combination Display
There is no rule that prevents you from displaying floor, window and wall graphics together. Call the expert graphic artists at Magnify Signs today to learn more about your options and to find out how we can do it even with a smaller storefront setup. We proudly serve the business communities in and around the Denver Metro Area, Englewood, Littleton, Lakewood and Centennial.