LED Signs (also known as an electronic sign or illuminated sign) are any signs that are lined with Light Emitting Diodes which illuminate the sign. LED signs have replaced florescent signs across the board because they are brighter and more energy efficient. A Light Cabinet sign or Channel Letter sign would be considered an LED sign, but the category broadens far behind the two examples. Since a sign only needs to illuminate to be considered an LED sign, the possibilities and applications for the lighted sign could be endless. The sign experts at Magnify Signs have even managed to create an LED sign with routed custom cut aluminum. If that isn't impressive, I'm not sure what is.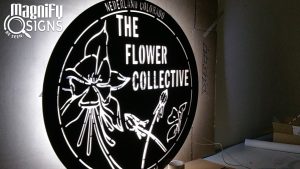 Why a Customized Sign?
Your brand is your identity and we make it possible to build a stronger brand with a customized business sign. A custom LED sign can be made out of aluminum and be manufactured in many shapes and sizes. The best way to attract customers and help them find your business is by displaying a custom business sign with your unique branding, lit by LED. The signs experts at Magnify Signs are your best option for getting custom LED signs in Denver, CO and the surrounding metro area.
What Makes LED So Popular?
Endless Applications

All we need to create an LED sign is a good design, LED lights, and a fabricated cabinet. The material can range from a simple plastic frame to illuminate a custom print graphic, to strong custom cut aluminum. This gives us the ability to give you a wide variety of options for your custom sign.

Stands out in a crowd

A sign is bound to catch more attention if it is illuminated. Having an LED sign as your business sign will help you stand out among the other office signs in the space and give you a bold look.

Interior or Exterior

Interior

An LED sign could be used as an interior sign for a building, such as an interior lobby sign or custom print graphic sign The LED sign can brighten up any room, or be used to accent a certain space or room.

Exterior

As mentioned before, modern Channel Letters and Light Cabinets are made of LED lights and used as outdoor signs. The sign experts at Magnify Signs could offer more than those two options for an exterior sign, such as using aluminum to make a routed custom cut aluminum LED sign of your company logo and name.

Sleek and New

Doing something as simple as adding light to a sign can change its look entirely. The light will make the sign colors bright and bold, and give an overall sleek and modern look to the sign.
Behind the Sign
Here's a review given to us by one of our clients after we installed this new LED Channel Letters sign on their building: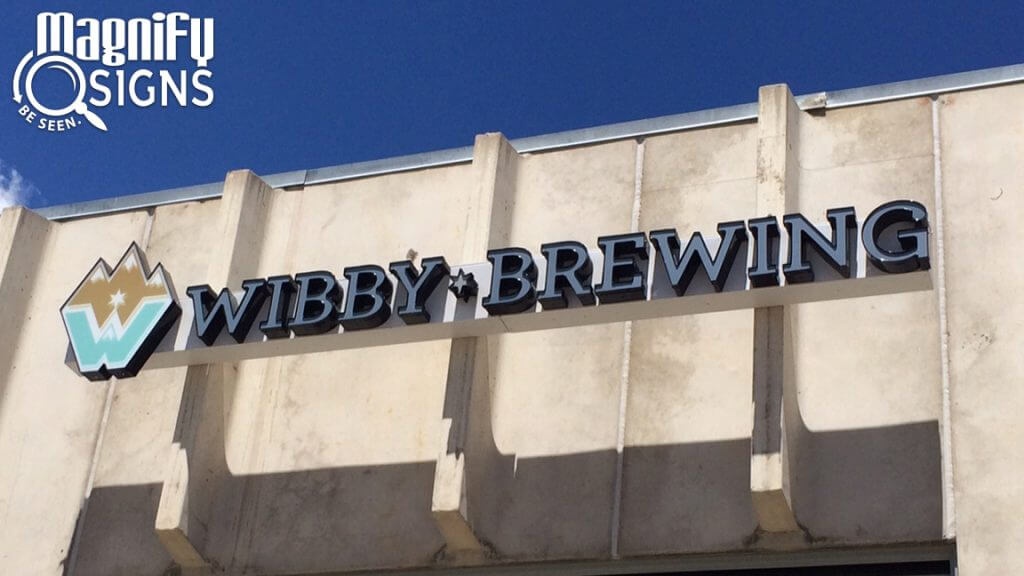 "Tim and the team at Magnify signs were absolutely fantastic to work with. They found a way to give us what we wanted out of a sign and a way to make it happen within our very limited budget. I cannot recommend them enough. If you'd like to check out their work, stop by Wibby Brewing at 209 Emery Street in Longmont anytime! Cheers! #LagerLove"
~Ted Risk, Wibby Brewing CEO
Get Your Customized Sign Started Today
The graphic artists at Magnify Signs understand that your business requires custom signage, highlighting your brand and location. We proudly serve the business communities in and around Metro Denver: Denver, Englewood, Littleton, Lakewood and Centennial, etc.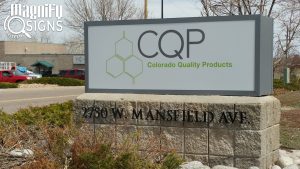 Experts Are Just a Phone Call away
Call us today to discuss how we can change the look of your building's interior or exterior signs with a new LED sign. We will gladly come out and do a site survey, take measurements, gauge the usage of other sign products in the neighborhood and provide you with expert advice about your sign options. We want your signage to help your business Be Seen!
CLICK HERE TO GET A FREE LED SIGNS QUOTE, OR CALL (303)-761-9592