Vinyl Letter Signs (also known as Vinyl Lettering or Fleet Lettering) are sets of custom cut vinyl letters applied to a pre-existing surface or substrate. Vinyl itself is a material made from a synthetic resin or plastic consisting of polyvinyl chloride. Vinyl lettering signs can range from vinyl letters on your building's front windows as an exterior sign, to a US Dot number in vinyl lettering on your vehicle. Vinyl lettering signs are a great way to get more custom signage for your business, without breaking the bank.
Why a Customized Sign?
Your brand is your identity and we make it possible to build a stronger brand with a customized business sign. Custom vinyl lettering signs are an easy and inexpensive way for you to get great quality custom business signage for your business. The best way to attract customers and help them find your business is by displaying a custom business sign with your unique branding. The signs experts at Magnify Signs are your best option for getting custom vinyl lettering signs in Denver, CO and the surrounding metro area.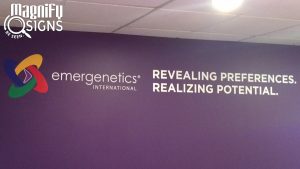 What Makes Vinyl Lettering So Popular?
Durability

Every one of the sign experts at Magnify will tell you that vinyl is a tough material. Mainly because each of us have had to scrape the stuff off of a car or substrate at some point. Whether you get caught in the hail, or in mounds of dirt, you can be assured our vinyl letters sign will still be there once you escape.

Variety of Applications

Vinyl letter signs only include the vinyl, but the substrate we apply the vinyl to is up to you. Companies with entire fleets of vehicles can have US Dot Numbers in vinyl lettering put on their vehicles, or a smaller business could use vinyl lettering as an alternative to a perforated vinyl window sign to save some money on a window advertisement.

Simple

With custom vinyl letter signs, the details for the sign are limited to just color, font, letter height, and placement. There are only four details we need to worry about. It's so simple!

Inexpensive

Don't get it twisted- vinyl is a tough and bold material, but is a much cheaper option compared to making an acrylic sign or gatorfoam sign. If having signage is non-optional (which it usually is) then vinyl letters may be the solution to your signage need.
Behind the Sign
From the Magnifying Glass Blog
Keeping Light Cabinet Signage Clean in Sheridan, CO (posted on April 18th, 2016)
"Near the lightbox sign, the front window has vinyl lettering distinguishing the office from the lab since the two facilities have been separated. The facility separation also required a wooden post and panel custom outdoor sign, which acts as a wayfinding sign for shipping and deliveries."
Read more on the Magnifying Glass Blog
Get Your Customized Sign Started Today
The graphic artists at Magnify Signs understand that your business requires custom signage, highlighting your brand and location. We proudly serve the business communities in and around Metro Denver: Denver, Englewood, Littleton, Lakewood and Centennial, etc.
Experts Are Just a Phone Call away
Call us today to discuss how we can change the look of your building or vehicle's signage with a new custom vinyl lettering sign. We will gladly come out and do a site survey, take measurements, gauge the usage of other sign products in the neighborhood and provide you with expert advice about your sign options. We want your signage to help your business Be Seen!
CLICK HERE FOR A FREE QUOTE ON VINYL LETTER SIGNS! OR CALL 303-647-9005