Are you looking for a trusted, reliable sign company partner to
handle your local, regional, and national signage needs? 
Our
location in Denver, CO puts our signage services within easy reach of
clients across the United States. We take the sign and graphics
projects off your "to-do" list and put them on ours so you don't have to
worry about them.
Magnify Signs is a Denver signage company with over 30 years of experience in professional custom business signs. A family run business locally owned and operated in Colorado.
Indoor and outdoor signage as well as trade show displays and banners hold no secrets for us.
We have designed, installed, and maintained thousands of signs for organizations and companies across the Denver area and beyond.
Signage comes in a variety of shapes, sizes, and materials—and we know them all. All our customers have to do is decide which combination of signage will uplift their business image and best match their brand.
Range of Products
Our range of signage includes interior signs, exterior signs, banners, trade shows and events signs, vehicle graphics and wraps, and more.
Interior Signs
Interior signage in your lobby space is the first thing people notice—and first impressions matter.
More About Interior
Interior signage in your lobby space is the first thing people notice—and first impressions matter. That's why you need your lobby signs to stand out. Custom acrylic or metal logo signs in your lobby add positive brand reinforcement. Custom signage-can be a wall mural or window graphics for example, make a bold and stylish statement.
Interior signs differ in purpose and material, as you can find acrylic signs, vinyl signs, window vinyl signs, floor signs, and more. People also respond well to digital information. With a digital sign, you can provide people with updated and interesting information in their preferred format.
Interior signage should also be informative. With our directional signs, you help people walk around your premises and feel comfortable and confident.
It is now compulsory for businesses and organizations to have ADA-compliant signs that assist disabled people. Make people feel less vulnerable and empower them with ADA-compliant signage. Encourage them to come to your business and enjoy their time there.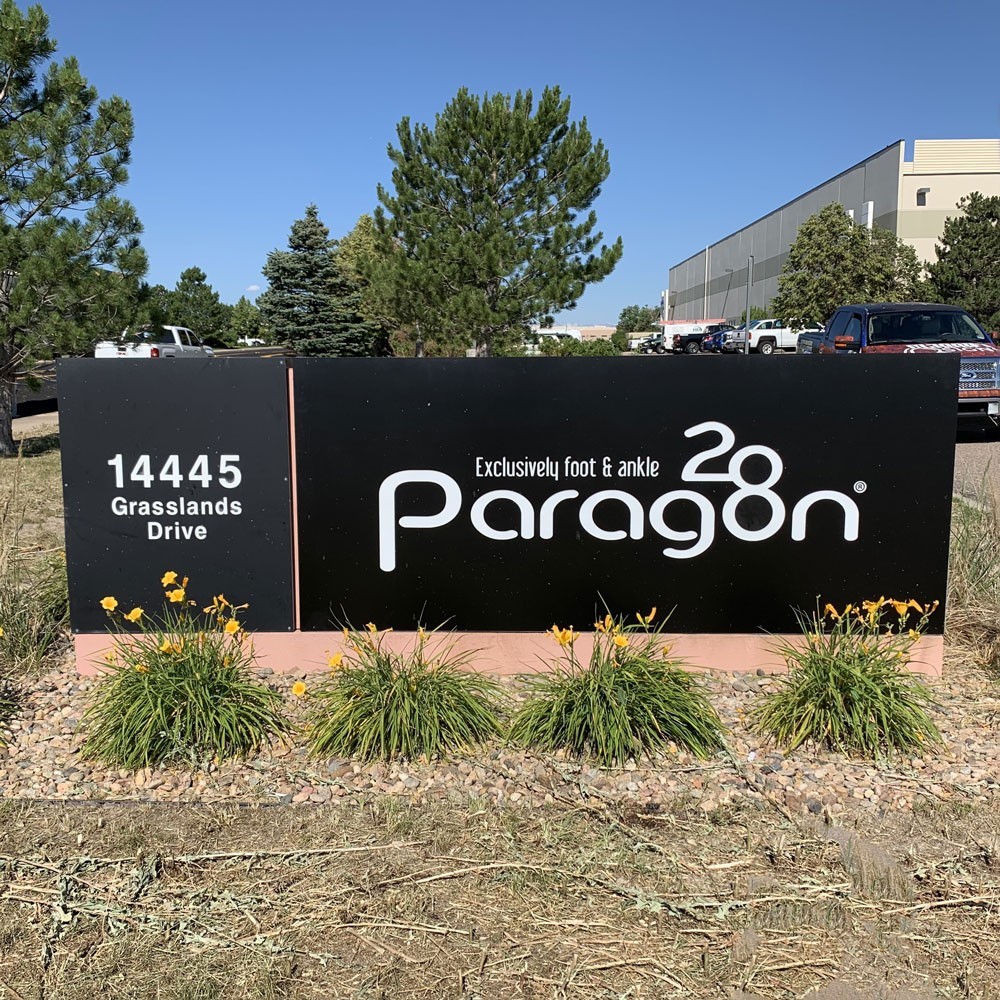 Exterior Signs
Catch people's attention by letting them know where you are. Exterior signage is the best business or church locator, and advertises you for free on a 24/7 basis!
More About Exterior
The most efficient way to catch people's attention is by letting them know where you are as they drive or walk by. Exterior signage is the best business locators, and advertises you for free on a 24/7 basis!
Your choices are almost endless. Choose from channel letters, light cabinet signs, aluminum signs, post and panel signs, A-frame signs, monument signs, and more. They all extend your brand's reach to the curbside and beyond.
You need to let the world know where you are and what you do, so use all the marketing tools available to you to get your message across!
Trade Show and Event Signage
A trade show introduces hundreds of businesses to customers, so you need to make your booth stand out with its uniformity and strength of message.
More About Trade Show and Events
Trade shows and events are an excellent opportunity to promote your business. Make the most out of it with trade show booths, displays, stands, and banners. A trade show introduces hundreds of businesses to customers, so you need to make your booth stand out with its uniformity and strength of message.
Vehicle Graphics
With a full or partial vehicle wrap, graphics, and lettering, you can carry your brand with you wherever your business car goes.
More About Vehicle
There is no reason to use unmarked business cars. Use the mileage of your business fleet to advertise your company on the go. With a full or partial vehicle wrap, graphics, and lettering, you can carry your brand with you wherever your business car goes.
If you don't want permanent wrapping or lettering, our vehicle magnets will brand your business cars in a temporary way. Put them up in the morning and take them down in the evening. You can even switch them between cars to make the most out of your investment.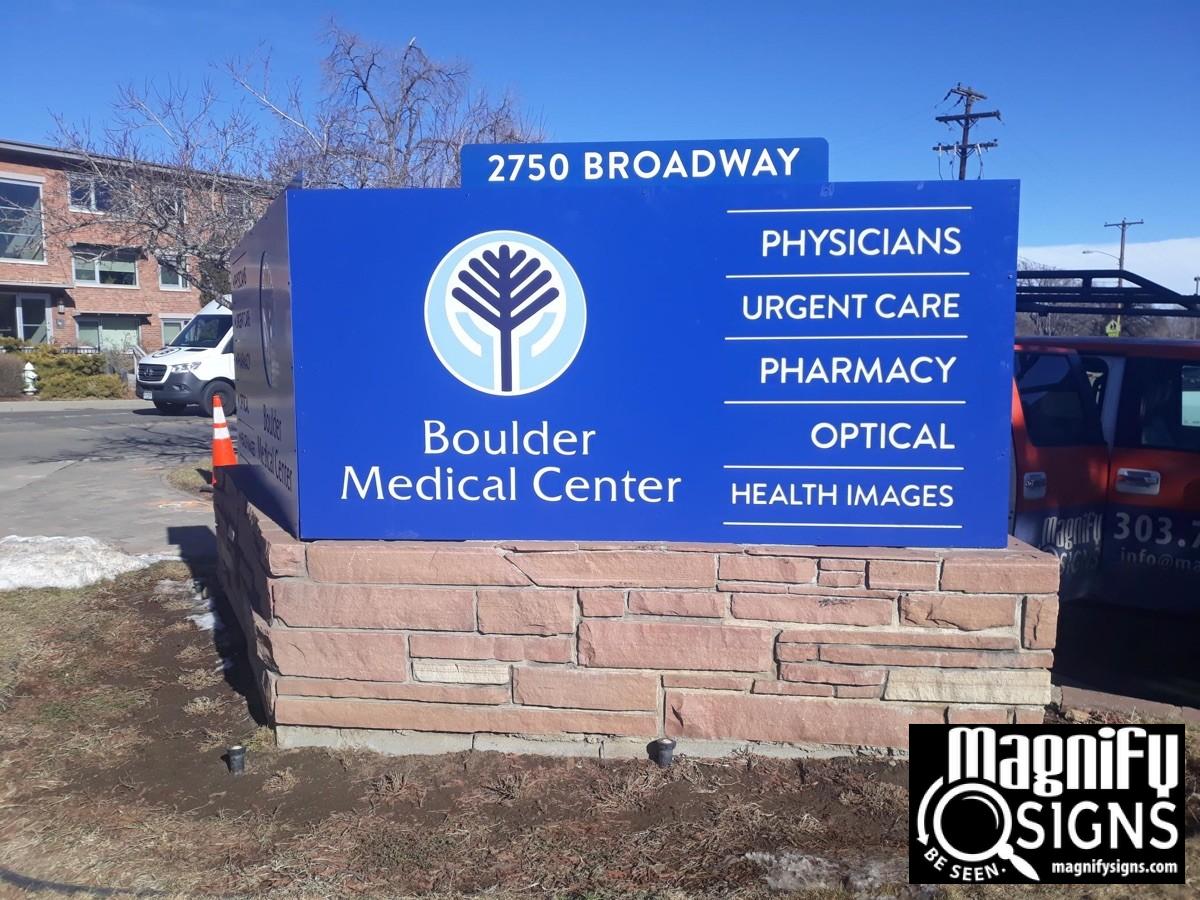 Health Care/Medical Signage
We provide a wide range of interior, exterior, and ADA custom signs for Medical areas, Dental, and Hospitals.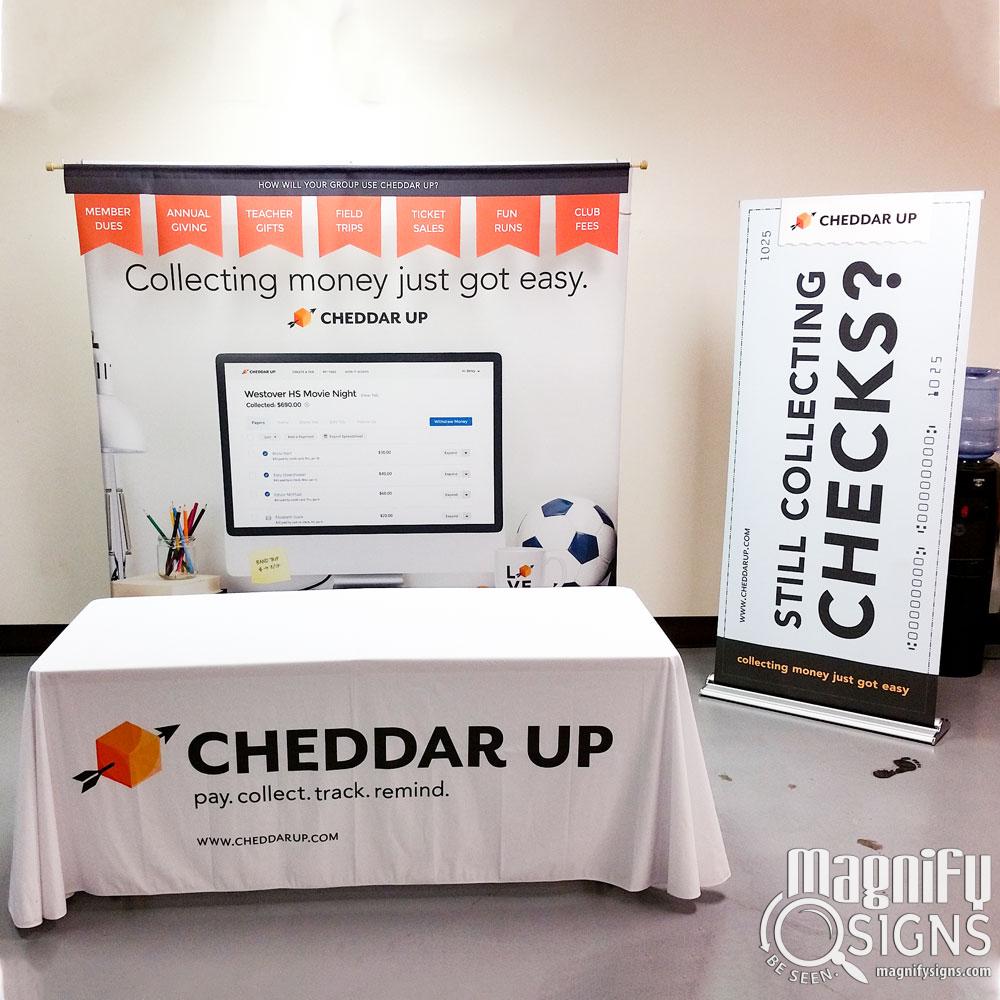 Professional Banners
Banners are the standard for temporary wide format print signs. Banner signs are made from an inexpensive fabric material with either custom cut vinyl or custom graphic prints mounted on the face
More About Banners
Custom banner signs offer the perfect opportunity to present the latest business news, since they are created as needed and used for various events throughout the year.
Magnify Signs Is A Full-Service Signage Provider
Magnify Signs offer integrated services. From site survey to sign design and on-site installation, we are here to make your business look better and get the attention it deserves.
Outdoor Signs Advertise Your Business
Outdoor signs are the first thing that people notice. Churches and companies can choose from channel letters, A-frame signs, aluminum signs, and monument signs. Make them memorable, stylish, and representative of your company or church.
ADA-Compliant Directional Signs
Signage is not just there to alert people of your presence. They have another important mission: to help people find their way around your premises and assist disabled people with signage that is suitable to their needs.
All businesses, churches, and organizations must comply with ADA signage rules in their signage. Make both employees and visitors feel comfortable and at ease in your building and reap the benefits of happy customers and satisfied employees.
Indoor Signs Further Your Message
Acrylic and vinyl signs, digital signs, and wall murals bring out your interior and make an impression on people's minds. The possibilities are endless!
Trade Shows and Events Signs Let You Stand Out From the Competition
Most businesses participate in trade shows and events. There is only one way to stand out from the crowd: trade show displays such as stands, fabric walls, and banners make your presence felt and create a uniform and well-thought vision of your business.
Advertise Your Business with Proper, Professional Signage
By investing in a business sign, you are advertising your company to the outside world. It is the most direct and effective way to let customers know who you are, what you do, and how you work.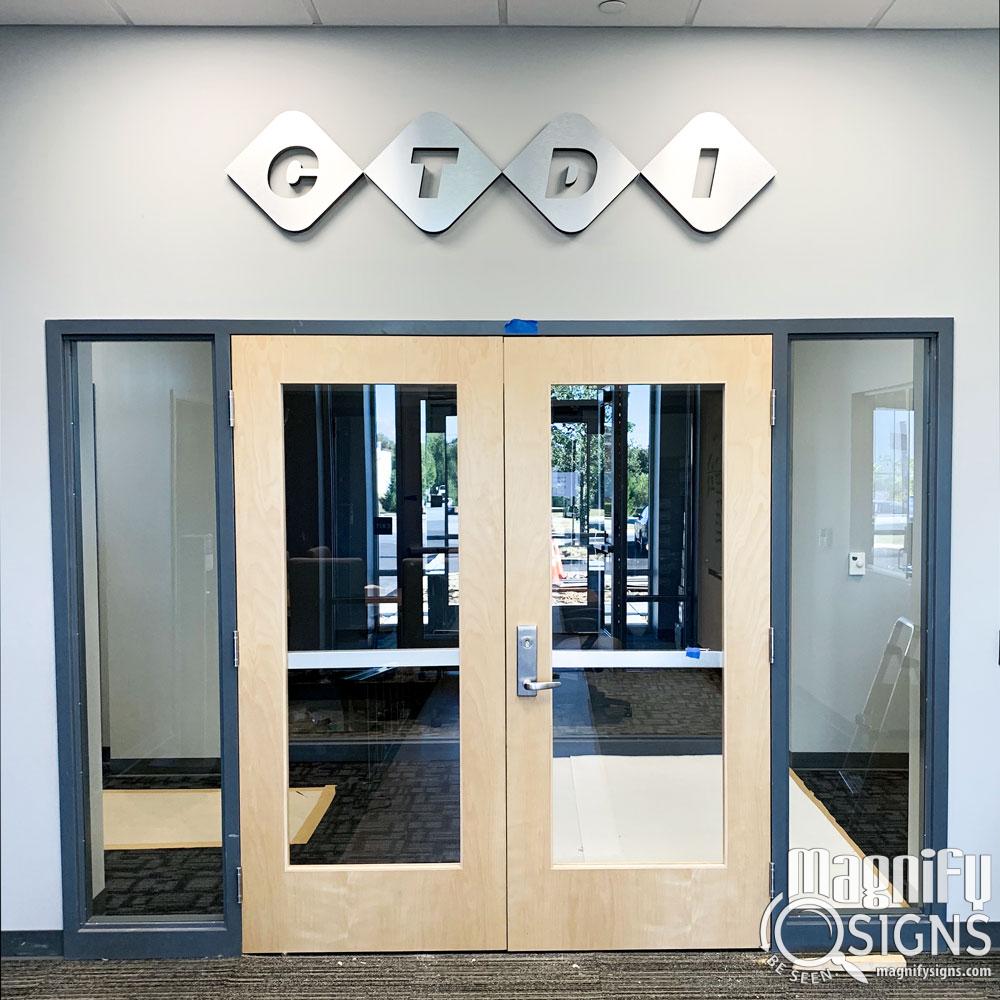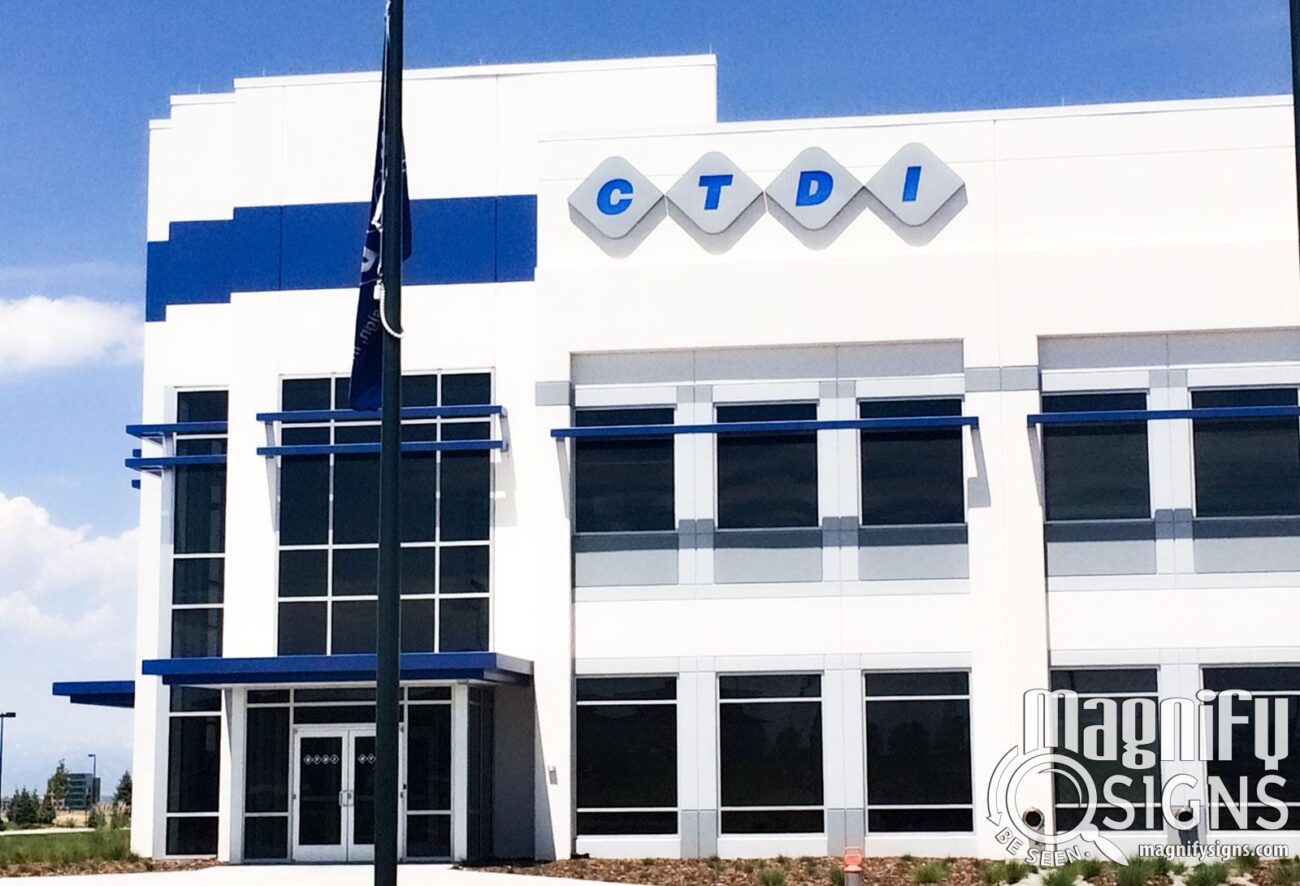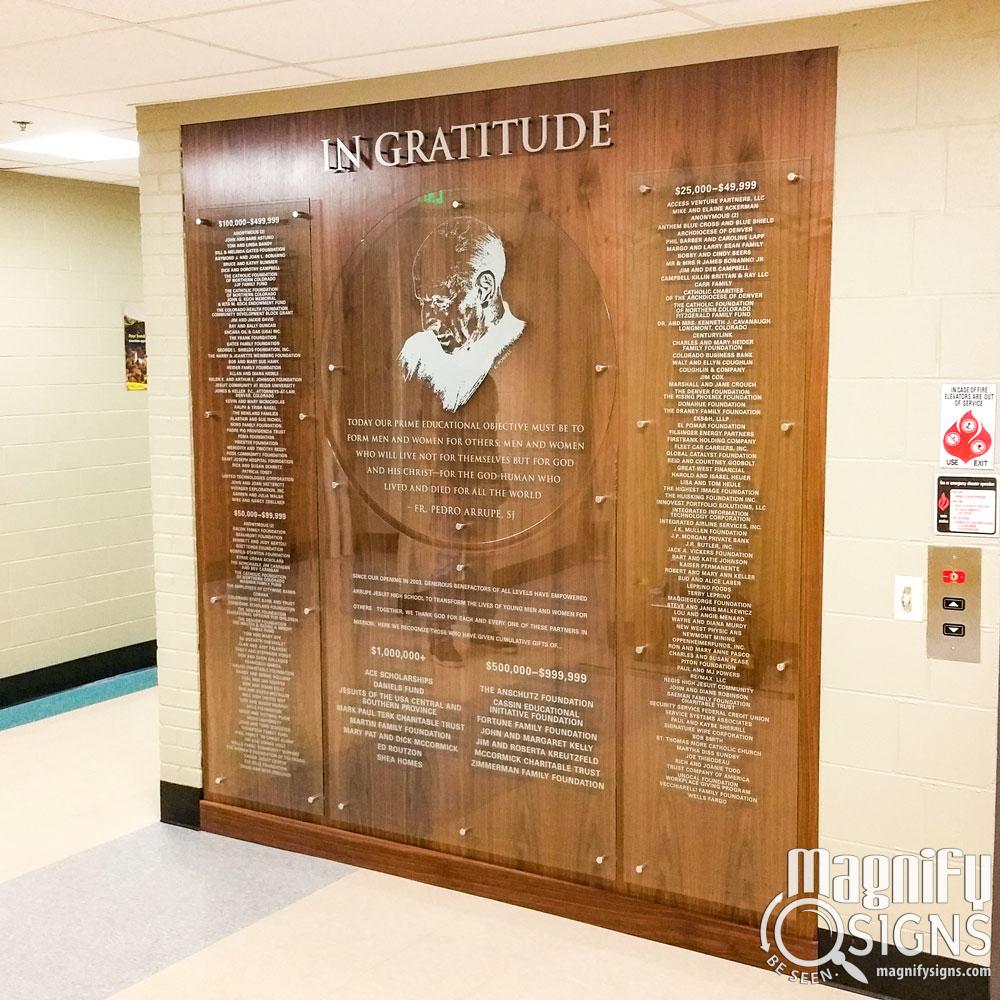 Magnify Signs at a Glance
Custom Signage
All our signage is customizable because we want companies and churches to have complete control over how their signage reflects their brand. Colors, shapes, textures, patterns, and texts can be decided on the spot depending on the message you want to convey.
From interior signs, directional signs, and ADA-compliant signs to exterior signs, A-stands, trade show signs, and vehicle wraps and graphics, each sign is unique and draws its strength from its distinctiveness. We are here to help you design the most suitable signage for your company to help you get more customers.
Take advantage of the free 24/7 advertisement smart signage provides to grow your business!
Wide Range of Products
Companies and churches need various types of signage: for their lobby, directional signs to help customers and employees, monument signs to let people know of their location, A-frame signs and banners to inform customers of sales or special offers… the possibilities are endless!
During trade shows, businesses need personalized booths, stands, and banners to stand out from the competition.
Companies, churches, and organizations should have a series of uniform but diverse signage that best reflects the spirit of the business and its brand. That's why we offer a wide range of products to make sure your brand is presented in a consistent and stylish way throughout your premises and on the curbside.
30 Years of Experience
Through our 30 years of experience, we've been offering great value of service at exceptional cost. Our experts will sit down with you to design your custom sign. We will then produce it and install it at your location of choice.
Due to our extensive expertise, we know which outdoor signage requires a permit. We even file all the necessary paperwork to obtain the required permit. That way, all you have to do is pick the right signage for you—we'll handle the rest.
We want you to have peace of mind and the knowledge that you have experienced, professional, and dedicated experts on your team to help you advertise your business and increase your sales.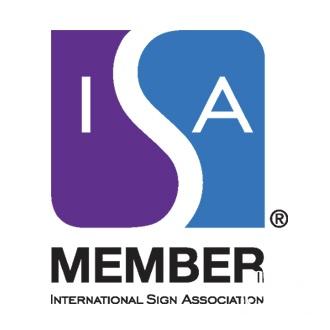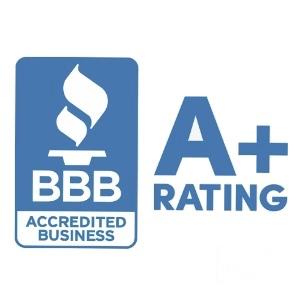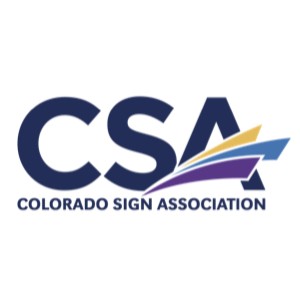 Professional Signs Help People Locate Your Business
Outdoor signage and banners tell the world where you are and lead people to you. Indoor signage guides customers and employees and helps them find their way within your building.
Signage Speaks for Your Business
Professional signage tells a story. Just by looking at your sign colors, fonts, and shapes, customers can gauge what type of business you are. Are you a sophisticated, sleek company or a fun, trendy business? Signage reflects your brand image and tells everything a customer needs.
Cost-Effective, 24/7 Advertising
Signage is the most cost-effective and budget-friendly way to advertise your business. Once installed, they advertise your business on a 24/7 basis and make you stand out from the competition.
What Our Clients Think of Magnify Signs
Our past projects speak for themselves. Our customers have been more than happy to leave their reviews and testimonials about the quality of our services and the value of our products.
"Magnify Signs designed and produced new signage for my shop on a short turn. Our signage is wonderful and I am completely satisfied with their products. Thank you, Magnify Signs!"
– AMY K.
"Great company to work with. I recently have had them prepare several projects for my business and they were all delivered on time and on budget in great quality. Strongly recommend Tim and his team."
– DETAIL FORCE, INC.
"Tim and the team at Magnify Signs were absolutely fantastic to work with. They found a way to give us what we wanted out of a sign and a way to make it happen within our very limited budget."
– WIBBY B.
"For 2016, we wanted to update our trade show booth presence and display. The trade show season was quickly approaching and we called upon Magnify Signs to help us create a new and improved trade show booth display. They provided great service and turned around a great booth display in very tight turnaround times. Everyone was great to work with and we are excited to use them for our next project!"
– WATERPULSE
"I contacted Magnify Signs for 3 projects. One of my projects was decals for our vehicles, illustrating our livestock brand. With all 3 projects, their communication from beginning to end was excellent. The quality of their work was excellent, as well as the value. I highly recommend them!"
– KRIS C.
Magnify Signs Services
Magnify Signs specializes in custom-made signage for interiors, exteriors, vehicles, and trade shows and events. Our 30 years' expertise gives us the determination to constantly outdo ourselves and improve our quality of services, our value to our customers, and our after-sales maintenance assistance.
Our range of products includes interior signs such as lobby signs, acrylic signs, wall murals, floor signage, ADA signs, window vinyl signs, interior digital signs, and directional signs. Give life to your interior business premises with our interior signs and help visitors and employees find their way in your building in an aesthetically pleasing, comfortable, and thoughtful way.
Our exterior signs will make you visible to passersby and help people locate your business and your line of work. You will find aluminum signs, monument signs, channel letter signs, light cabinet signs, post and panel signs, and A-frame signs. Depending on your needs and brand image, we will find the most suitable exterior sign for your business.
Our trade shows and events signage is perfect for making your business noticeable during large gatherings. You can stand out from the competition with our trade shows and events displays, trade shows displays, Coroplast signs, and fabric wall displays. For maximum effect, your business can invest in banners and banner stands.
Make the most out of your marketing strategy by using your car fleet as an advertising tool. Choose from our vehicle wraps, vehicle lettering, vehicle graphics, or vehicle magnets to advertise your business on the go, day and night.
Outdoor signs serve as powerful tools for businesses to make a lasting impression, promote their offerings, and communicate essential messages. With a myriad of options available, including monument signs, ground signs, and creative signage, customization is key to...
Follow Magnify Signs
We love to keep in touch with our customers and inform them of any offers, new products, and new projects we have undertaken.
Through our blog, we help businesses and organizations make the most out of their signage and give them plenty of ideas to advertise their brand through suitable stylish signage. Follow us on Facebook, Twitter, and LinkedIn to learn more and get inspiration on how to expand your reach and promote your business.