Running a church like South Suburban Christian Church (SSCC) is a rewarding task. As a member of the Christian Church (Disciples of Christ) denomination, the leaders at South Suburban have a mission and responsibility to, as stated on their website, "increase respect and understanding among Christian believers of all denominations." The leaders of this church wanted to add a positive and colorful image to their older building, and that's exactly why they called us at Magnify Signs. Whether it's adding color to the building or creating a sign for everyone to be able to use, we're here to consult you and give you options to help fulfill all your signage needs.
The two windows towards the ceiling create the perfect lighting for SSCC's new custom digital print, on an aluminum panel, welcome sign. Placed in the foyer of their church found in Littleton, Colorado, the new sign (not unlike an office lobby sign) creates a stunning colorful look that engages anyone who walks in. Installing the sign did present a challenge, as the bottom of the sign would have blocked a vent placed towards the bottom center of the wall, but our sign experts are no strangers to challenging installation jobs. To solve the issue, Gary created a wood frame behind the panel sign, offsetting it 3.5 inches from the wall and allowing for the air to flow from the vent.
That wasn't the only creative solution we came up with for SSCC. In the gathering space of the church, several church groups take turns using a table near the back wall for information and group promotion. SSCC wanted a way to have an acrylic frame which would have a space in the middle to change flyers posted by the group using the table. To meet this need, we provided them with an 11 by 17 inch acrylic poster holder, set inside a much larger full color print on acrylic panel mounted to the wall.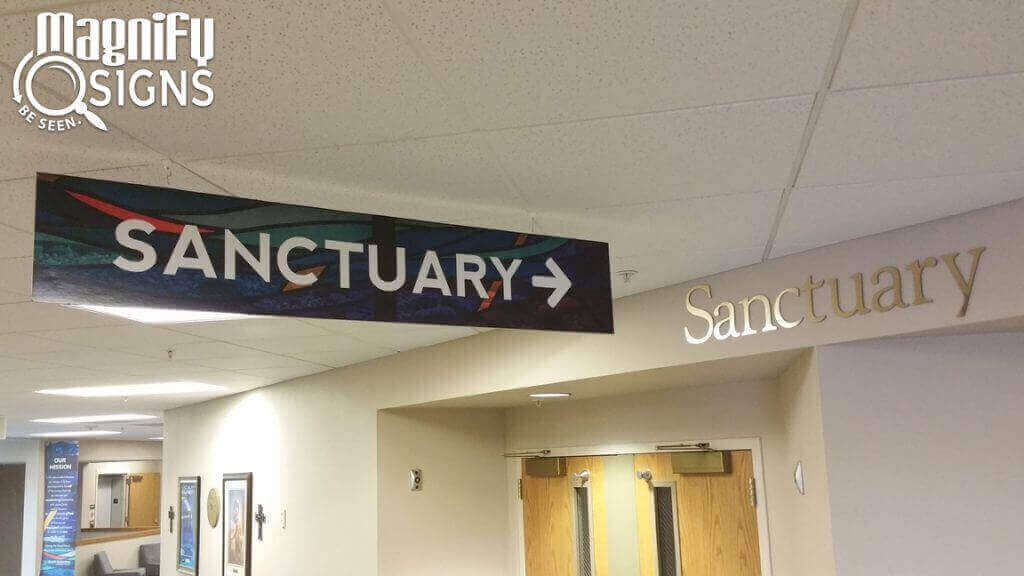 Unique signage needs, like SSCC's, require the help of sign experts. The creativity and problem solving skills brought forth by Magnify Signs proves we are just that- your sign experts ready to meet your sign needs. Just ask Associate Minister Darvin Wallis, who stated, "I am extremely happy with the quality of work and [Magnify Signs'] customer service. We will be using you for our next project."
Have a unique signage problem which requires a unique solution? Call one of our unique people at Magnify Signs.