Operating out of Englewood, Denver and Evergreen, the Kseni Mademoiselle Boutique Café is finally also coming to Sheridan. In the business of providing superior baked goods and wedding cakes, this company needed privacy window cling and exterior building cabinet signs for Sheridan, CO. This is when the company's management team contacted Magnify Signs to be seen.
Putting Together a Signage Combo
The building sign the company chose is an exterior lightbox cabinet that displays the iconic purple color and artistic lettering display of the website. The darker frame of the box acts as a visual counterpoint when the sign lights up. For the interior, the company chose to add privacy cling, which is actually a perforated vinyl window cling display. Someone on the inside can see out, but to someone on the exterior, the glass displays an attractive marketing and branding message. Lastly, we added door graphics that repeat the logo display and provide hours of operation for the bakery. With this decisive sign combo in place, the venue is getting ready to open its doors to the public.
Are You Missing Signage?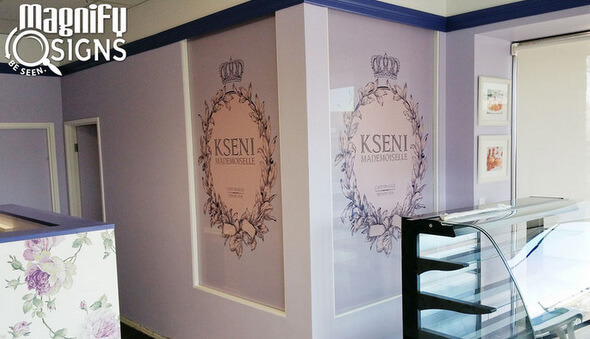 Commissioning a signage combination is an excellent method of ensuring that your venue's visual ad components are taken care of. Your marketing message is in place, you have placed branding information in places where consumers will see it and the functional nature of the information you provide makes it easy for your customers to interact with the business. Yet what happens when you do not commission all of your signage at the same time?
Sometimes, this leads to frustrating mistakes and missed marketing opportunities. Which of these signage components are you still missing?
Door graphics. Does your door display a branding message? Does it offer information about hours of operation and contact options? If not, this is an easy and quick fix.
Window graphics. Vinyl window graphics provide niche information that supports your buying messages. These can be colorful digital images, lettering or a combination of the two.
Posters. Retailers frequently place those inside so consumers can see them from the windows. The images are easy to make out, but the lettering is harder to read. The goal is to entice shoppers to enter the store.
Building signs. If you are still relying on a temporary banner above your entryway, it is time to install a channel letter, dimensional letter or box cabinet sign.
Privacy window cling. This is a big deal for storefront spas, salons and beauty clinics. It is also necessary for a venue that features an office with big windows.
Interior markers. Whether it is the point of purchase sign or the aisle marker, we can help you get the interior of your store set up quickly with your customers in mind.
Ordering Building Signs and Privacy Window Cling in Sheridan, CO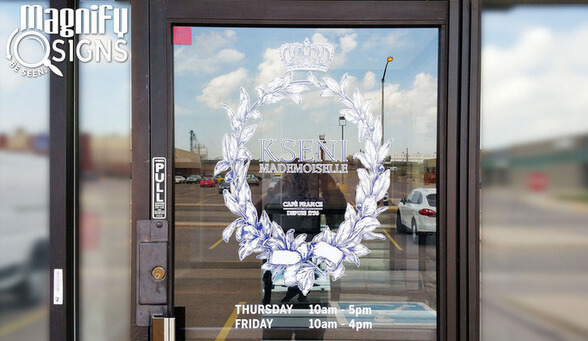 Contact our graphic artists to discuss your need for a signage combo or a few stand-alone components. Enhance the brand positioning at your location and make it easier for consumers to interact with you. Call us today to get started.