Cor-Plastic, also known by the trade name Coroplast®, is a corrugated plastic substrate made from thin polypropylene plastic sheeting. It is essentially a "plastic cardboard" made from two thin layers of plastic with a third layer zig-zagged between them.
Coroplast® sheets come in thicknesses ranging from 2mm to 10mm, making them ideal for a range of projects. The twin-wall plastic sheet structure makes Coroplast® lightweight, durable, and shock-absorbent. It is available in a variety of colors and dimensions, including wide sheets that allow for larger applications.
Coroplast® is used for both indoor and outdoor printed displays, as well as in the packaging, agriculture, automotive, and construction industries. Unlike foam core board, Coroplast® is both waterproof and stain-resistant, making it the material of choice for the screen-printing industry.
Where to Use Coroplast® Signs
The low cost of Coroplast® signs, combined with their durability and lightweight, makes them incredibly versatile. Potential uses for Coroplast® include:
Yard signs for real estate, bazaars, and sports events
Indoor and outdoor directional signage
Informational signs
Temporary promotional signs, such as A-frames or material for tradeshows
Election and campaign signs
Indoor signs such as menus and announcements
Two-sided hanging signs
Qualities of Coroplast® Signs
Printability
Coroplast® stock sheets are electrostatically double-treated on both sides by "Corona Discharge" to achieve brighter printed colors, as well as improve adherence for ink and adhesives. All the colors of the spectrum look good when printed on Coroplast®.
Good Base for Adhesive Vinyl
Rather than printing directly onto Coroplast®, you can print on vinyl instead and glue it to the Coroplast®. This is a great option for A-frames, where you may want to change the message without printing a new Coroplast® sign every time.
Indoor Durability
When used indoors, Coroplast® signs can last for several years, and in some cases even up to a decade. They are ideal for many indoor applications, such as directional, promotional, informational, and other types of signs mounted on the walls or windows of a business.
Weather-Resistant
Laminated Coroplast® signs are weather-resistant, and are therefore ideal for outdoor signage. They can take rain, wind, sun, and heat without losing their color, form, or integrity. Just attach them solidly, and they should easily last a year or two before needing replacement.
Low-Cost
The low cost of Coroplast® signs makes them ideal for small businesses that have a limited budget for signs and advertising material. Given its durability, Coroplast® is a cost-effective choice.
Easy to Install and Uninstall
Because Coroplast® signs are lightweight, they are easy to attach to walls or ceilings with basic equipment like hooks and grommets. Unlike heavier signage, Coroplast® signs do not require any additional supporting structure or frame.
For a window display, simple suction cups are sufficient to attach a Coroplast® sign.
As for yards and other soft surfaces, H-Frame wire stakes are sufficient in most cases. The prongs on one end go through the "flutes"—the open channels formed by the zig-zag sheet of the Coroplast®—while the other end is easily pushed into the ground without the need for tools.
Environmentally Friendly
Coroplast® is recyclable, since polypropylene is 100% recyclable under Resin Code 5. Although neighborhood recycling programs may not accept Coroplast®, all recycling facilities do. This makes Coroplast® an environmentally-friendly choice.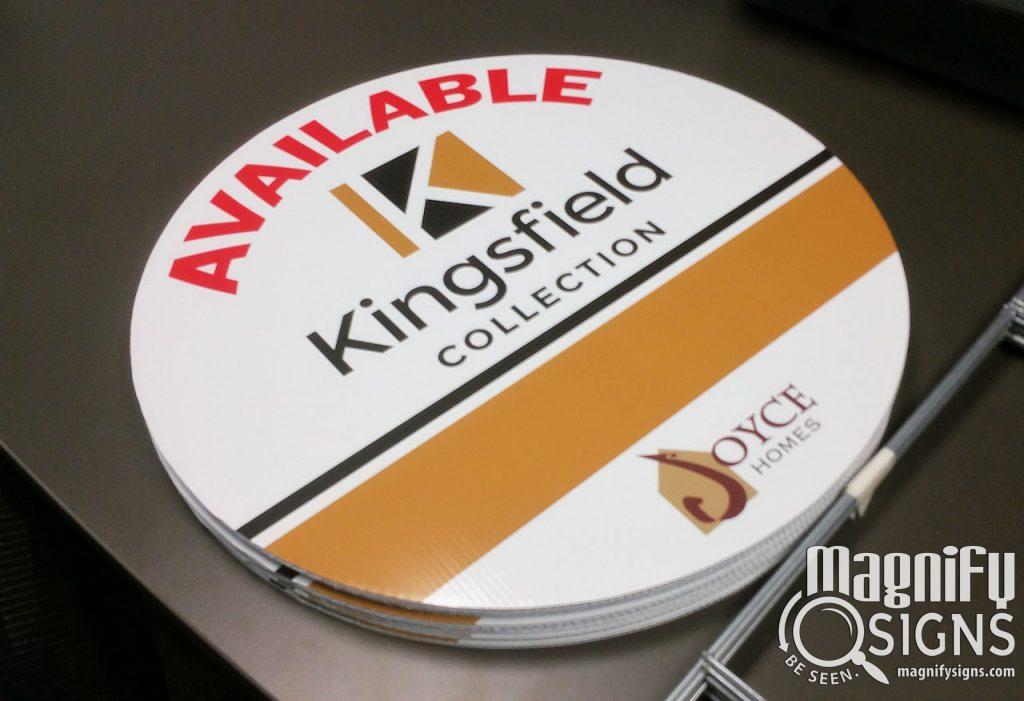 How to Maintain Your Coroplast® Signs
Easy to Clean
Outdoor Coroplast® signs are made to last, but no protective coating can stop them from getting splattered with mud. Just wipe your signs with a little water and soap, and they will be as good as new. There is no need for special detergents to keep your signs clean.
Proper Storage
Before storing your signs, make sure they are clean and dry. If you need to stack several signs, remove their supports—such as H-Frame wire stakes—before storing them in order to avoid scratches. Try not to fold your signs or stack them vertically. Instead, stack them lying flat to help them last longer.
Are you interested in making a Coroplast® sign for your company? Magnify Signs is a Denver signage company with over 30 years of experience in professional custom business signs. Contact now Magnify Signs online or call 303-647-9005 for a free quote on your next signage project!