Orientate People with Directional Wayfinding Signs
Indoor & outdoor directional signage is used for direction or information like building directories, directional aids, and parking signs. These type of signs can also be used to inform necessary information regarding safety or identify key areas.
Wayfinding refers to directing your customer, guests, or visitors with well-designed signage allowing them to self-navigate through your facility.
From the interior of an airport to the exterior walkways on college campuses, wayfinding structures are the ideal signage solutions to help people move from one point to another. Some of the most popular applications include:
Airports
Business Parks
Colleges and other Campus Environments
Commercial Centers
Corporate Offices
Hospitals
Informational kiosks outside your building
Parks and Trails
Residential Areas
Various Public Spaces
Custom Directional Wayfinding Signs
Magnify Signs helped Regis Jesuit High School design a wayfinding project to make the campus easier to navigate. Our signage professionals placed a series of wayfinding towers around campus. The silver and red towers are 40 inches wide by 77 inches tall, with large cut vinyl black lettering. These wayfinding structures were placed on the side of the road since they have higher visibility.
We also placed smaller wayfinding towers on the interior of the campus. These structures measure 20 inches wide by 48 inches high, with small cut vinyl black lettering. Seven of these towers were placed throughout the campus driveways and entrances, while nine of these towers are located by the pedestrian sidewalks on campus.
Help Your Customers Find Their Way
Since Magnify Signs set up the wayfinding signs for the Regis Jesuit High School campus, whether you are driving or walking around the campus for events, the signs will help you find the proper way.
Some of the products we offer include vehicle wayfinding, pedestrian wayfinding, traffic signs, parking lot signs, parking garage signs, and more.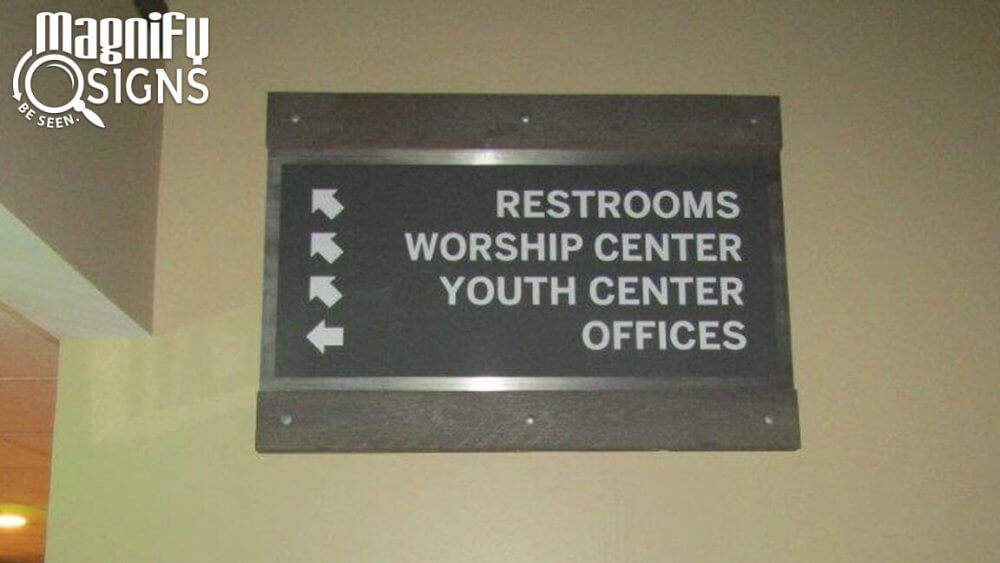 Start helping your customers or visitors find their way with custom wayfinding signs from Magnify Signs. Wait no more and get your Free Site Survey, or Call (303)-761-9592.