The marketing expert here at Magnify Signs attends school at CU Denver on the Downtown Auraria Campus, which has about 150 acres for the 50,000+ daily commuters. This campus of buildings would be difficult to navigate without signs. Regis Jesuit High School has 291 acres of entrances, buildings, and sports fields on its campus which up until a few weeks ago, had no signage for navigating. Imagine the distress of the freshmen!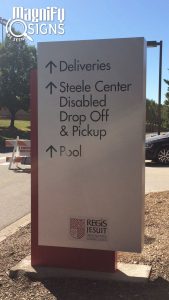 Magnify Signs swooped in to help them solve their wandering freshman crisis by placing a series of wayfinding towers around campus, like the one shown above. The silver and red tower shown above is 40 inches wide by 77 inches tall, with large cut vinyl black lettering. These larger towers were used as wayfinding signs for the side of the road, since they have greater visibility.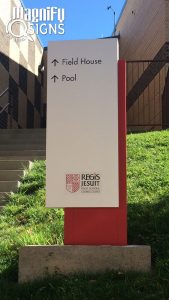 On the interior of campus, smaller wayfinding towers like the one shown above were used. These towers measure 20 inches wide by 48 inches high, with small cut vinyl black lettering. Nine of these towers can be found by the pedestrian sidewalks on campus, while seven of the taller towers can be found by the campus driveways and entrances.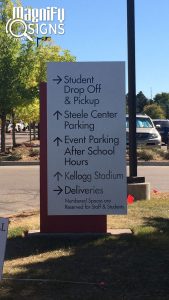 Since Magnify Signs set up the wayfinding for the campus, the tardiness of the freshmen has decreased dramatically! The parents of the freshmen appreciate using the signs as well when they visit campus for events. Is your facility missing some much needed wayfinding signage? Well, just like we did for Regis Jesuit, the sign experts at Magnify can ensure that your wayfinding directions will Be Seen.