Located in Englewood, Creative Garage Doors is an independent Colorado garage door company that specializes in garage door installations, repairs and related services. Succeeding at marrying visually stunning doors with affordable prices, Creative Garage Doors is a much sought after specialist in and around Englewood, Denver, Parker and Lone Tree.
When it came time to take their mobile marketing to the next level, the company's management team contacted Magnify Signs and inquired about work vehicle graphics for contractors in Englewood, CO.
Fabricating and Installing Vinyl Van Graphics & Lettering
We met with the garage doors specialists to learn more about their vision for the Ford van that is their business vehicle. After listening intently to the information and drafting a sketch that the client approved, we manufactured a dark red/brown stripe that goes around the van. In white lettering, which complements the color of the Ford, the company's phone number and website address are displayed. At the top of the sides, we are displaying the logo and the services offered in the same dark color. The back of the van repeats the niche and contact information.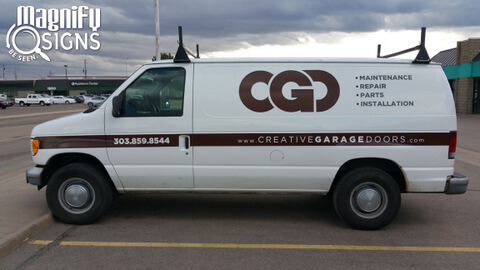 Using cut vinyl graphics for contractors in Englewood has the advantage of incorporating the color of the vehicle as a suitable backdrop for the product. It helps the progression of the style elements to flow naturally and look great. It also helps with the choice of colors. In addition, the placement of any decals is supported by the crisp appearance of the lettering. This look is a hallmark of the die cut method. It presents the company as one that favors quality work, explains its niche well and presents consumers with multiple contact options.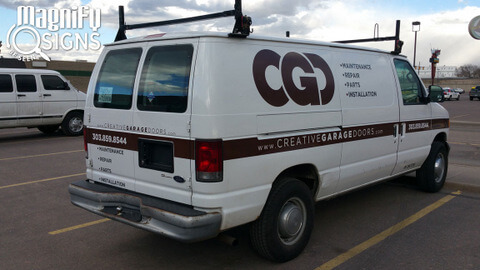 Have you been thinking about adding mobile advertising to your business' marketing lineup as well? We can help!
Lettering is sized for your vehicle. We adapt each vinyl graphics and lettering package to be perfectly in tune with your vehicle's proportions. There is no one-size-fits-all approach. Instead, we specialize in the customization of graphics packages to represent your business in the most advantageous manner possible.
Colors are tailored to your look. We work with the colors that you favor on your website and in print advertising. We also adapt the look of the hues to perfectly complement the color of your vehicle. While most work vehicles are white, plenty of them have been custom painted in other colors. We can work with any type of vehicle color and make your message pop.
Messages market your business. We can add as many or as few style elements and data bits as you like. When you want to highlight your niche, your address or your social media presence – or all three – we can help.
Call us today for more information on the type of contractor truck lettering Englewood professionals are relying on to spread the word about their products or services. We can show you excellent decal packages that would perfectly suit your business and market your company to motorists and pedestrians alike. In addition, we gladly also discuss other mobile marketing products such as vehicle wraps or window perfs.