The Americans with Disabilities Act (ADA) governs the display of your interior signage. To enable all consumers to have equal access to your facility, it is vital that you commission the right types of signage products. Doing so presents you as a company that genuinely cares about its clients, employees and customers. It also keeps you on the good side of the law.
What are your options?
Color contrast. One of the most obvious differences in ADA signage is the selection of the right types of color contrasts. This serves to make the message more easily readable to those with visual impairments. The must-know number here is 70 percent with respect to contrast. We can frequently make this work with your logo or company colors.
Character height. Going hand in hand with the color contrasts is the appropriate height of the individual characters. Some fonts are inappropriate in this setting. Moreover, many of these parameters are defined by the ADA. The character placement and height must leave sufficient space for Grade 2 Braille.
Mounting height. Once again, the Act predefines the appropriate heights for mounting your signage. In addition, some locations require the display of certain markers while other areas are voluntary. We work with you to identify the locations that ensure proper compliance.
Examples of ADA signage solutions for the interior include restroom signs, wayfinding markers that identify a broad range of rooms and service desks, suite signs, directories and exit signage that displays the proper color contrasts. Remember that these laws apply to almost all buildings and employers. Whether you run a restaurant, a medical facility or a store, there is a good chance that you need to display at least some ADA markers.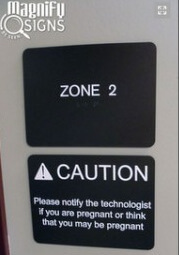 Since we understand the scope of the law, our professionals usually start out with a signage inventory that helps us to assess whether you already have some markers in place that simply need to be enhanced. In other cases, you may hope to be grandfathered into the old version of the ADA, but you might be out of compliance at this time and no longer meet the standards for grandfathering. Give us an opportunity to do a thorough site evaluation before you commission your signage.
Magnify Signs serves the business communities in and around the Denver Metro Area, Englewood, Littleton, Lakewood and Centennial. We work with your management team and conduct our surveys when it is convenient for you. Call us today to find out more about interior ADA signage solutions. Remember also that there is a need for exterior ADA signs as well!