Spanning three counties, the City of Littleton is home to a diverse group of employers. Satellite provider Dish Network, Raytheon, grocery giant King Soopers and PSA Healthcare set the economic backdrop for small and midsize businesses. The reception area signs Littleton, CO, companies commission usually bespeak the intricacies of their respective niches. As a result, the professionals at Magnify Signs routinely work with all types of materials and display options.
Material Options for Your Lobby Signage
Companies in the technological and financial sector prefer metal while those involved in creative endeavors and health care seem to commission acrylic products more often than not. Each material selection has its advantages. Metal provides you with the opportunity of displaying bronze, stainless steel, painted aluminum or brass on your office wall. It imbues your company's space with an atmosphere of longevity and steadfastness.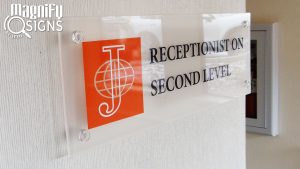 Acrylic comes in a broad range of colors. We can customize the look of the material to display your company's colors. Display a logo as well as your lettering in your specially chosen font. When you like the idea of transforming wall signage into works of art, we recommend the use of acrylic boards to which we can mount acrylic or metal lettering. Adding vinyl overlays has the potential to further enhance the look of your lobby sign.
A third material option is foam. It is a budget-friendly product that has the added benefit of creating three-dimensional displays when needed. Properly illuminated, this look adds a dramatic flair to your space. In addition to painting the foam product, it is possible to add metallic or acrylic laminates as the facings. This further enhances the good looks of the signage at a fraction of the cost associated with the materials.
Displays and Lobby Signage Alternatives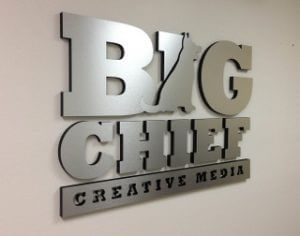 We use clear silicone to attach very lightweight lettering to your wall. When the lettering is a bit heavier, we use anchors that keep the marker in place. For boards, we recommend the use of brushed aluminum offsets. This look offers a sleek appearance that brings sophistication to the mix.
When you are not certain that a standard signage solution is really what you want to place on your wall, consider the installation of wall murals or graphics in lieu of standard lobby signs. For Littleton, CO, companies that have chosen this innovative means of showing off their business' name and logo, the unusual nature of the display has paid off with plenty of consumer compliments.
Commissioning Your Signage Today
Contact our professionals to place an order for a reception area signage solution that perfectly brands and markets your business. Our experts work with you on the design and incorporate any artwork that you already have on hand. When you want to try something completely different, we gladly design your lobby marker from scratch. Once we have perfectly sketched out what you had in mind, we manufacture and professionally install the finished product. Our technicians work with your management staff to ensure that we do not disrupt the operations of your company while we work in its foyer.