AluPanel Signage in Colorado
AluPanel signage is a product consisting of a polyethylene core inserted in between two aluminum composite panels that do not rust and are waterproof. This kind of signage is great for building a stronger brand and promote your business. Plus, it does not require a frame, as it is a lightweight aluminum, which makes it simple to install and able to be used in most sign applications.
This versatile product creates a superior quality image that can make your business stand out from the crowd. The aluminum sheets are printed with full-color vinyl graphics then laminated to withstand Colorado's intense sun and climate conditions.
Two Major Benefits of AluPanel Signs
Internationally Recognized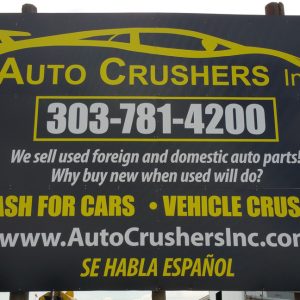 AluPanel is a product with international recognition that gives you pioneer solutions for the sign, advertising, and construction markets.
High-Quality Material
AluPanel signs are top-quality products specially designed for outdoor usage, as their rust-free and water-proof characteristics make them withstand the elements while promoting your brand in a unique style.
AluPanel Characteristics
High-impact and UV-resistant material
One side has gloss finish and another side a matte finish
Available in full range of Pantone color
Variety of colors options including brushed aluminum
Outstanding dimensional stability at extreme temperatures
They can be machined, folded, riveted, bent, and more
Metallics and mirror finishes, and tough polyester paint finish
You can print and place custom full-color graphics on both sides of the panel is available
Custom AluPanel Signs
These signs can be cut to your preferred size and your unique full-color graphics can be placed on one of its faces, giving you a dynamic custom exterior sign for your business.
Custom AluPanel signs will help you build a stronger brand for your business by adding a compelling and professional look to attract more customers.
Magnify Signs is a professional signage company that offers the best AluPanel signs in Denver, Colorado, and the surrounding metro area. Get your free quote today!