If there is one signage product that is frequently forgotten by new companies, it is the combination of ADA Signs and EVAC maps for Denver area venues. Whether it is the office building that is operating under a new management company or the entrepreneur who is moving a business from the garage to a dedicated storefront, these markers are a huge part of your corporate persona. They are also the law.
You Have Options
While the Americans with Disabilities Act (ADA) specifies that certain markers have to display pre-defined color contrasts, character sizes and mounting locations, you have some leeway that allows you to use colors, which actually complement the look of your company's logo. The mandated color contrast must be 70 percent, which offers you plenty of options. The professionals at Magnify Signs routinely work with companies who like us to incorporate their colors into compliant ADA signs for Denver. Add the dots associated with Grade 2 Braille, and you are in agreement with the Act.
Why EVAC Maps Matter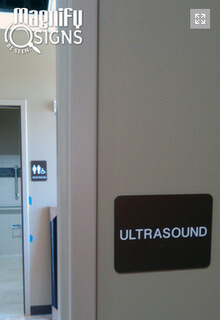 Keeping visitors and staff members safe at your office should be a major concern. Nothing speaks louder than the installation of site-specific EVAC maps. These usually feature a simplified blueprint of the area that highlights escape routes such as stairs and elevators. A "you are here" dot makes it easy for everyone to put the map into perspective. Dotted escape lines further increase the functionality of the map. We recommend an aluminum look with a brushed finish. Black outlines the map while red is the color of the dots. These types of EVAC maps for Denver venues should be on each floor at the elevator bank.
Branding is Easy
Frame the sign with a decal that displays your company's name and logo. In the alternative, place the markers at the appropriate locations and also install a logo sign nearby. This combination fulfills your branding needs as well as ADA regulations.
Why Some Businesses Lack the Right Signage
Considering that ADA compliance is not optional for the majority of businesses, there is still a large number of companies that fail to comply. Here are the top three reasons.
Cost. There is only so much money in the budget for signage. When push comes to shove, the company invests in marketing signage rather than ADA markers. Yet this business decision can come with a steep price tag. Get caught, and the fines are hefty.
Grandfathered no more. Even if your signage was in compliance with the 1991 version of the Act, you may still be in defiance of the law simply because you updated some of your existing signs. Doing so automatically requires you to upgrade to the 2010 standards.
Room confusion. A permanent room in your office must display compliant markers. Yet what is a permanent room? The odds are good that any room you are currently using is permanent. Even if you plan to make changes in the future, you need to follow the law for the signage based on the present.
We understand that it is not always easy to know what your markers are supposed to look like. Call us today for more information on compliance, ADA signs and EVAC maps.