Conifer, Colorado is home to the famous tiny town, a miniature city for kids to walk through and ride on the Tiny Town Train. Across the street from Tiny Town, a coffee and quick service shop known as Tomari's will be opening its doors in the town this December. The coffee experts at Tomari's made the right call by calling the sign experts at Magnify Signs to help them establish their business in the small town.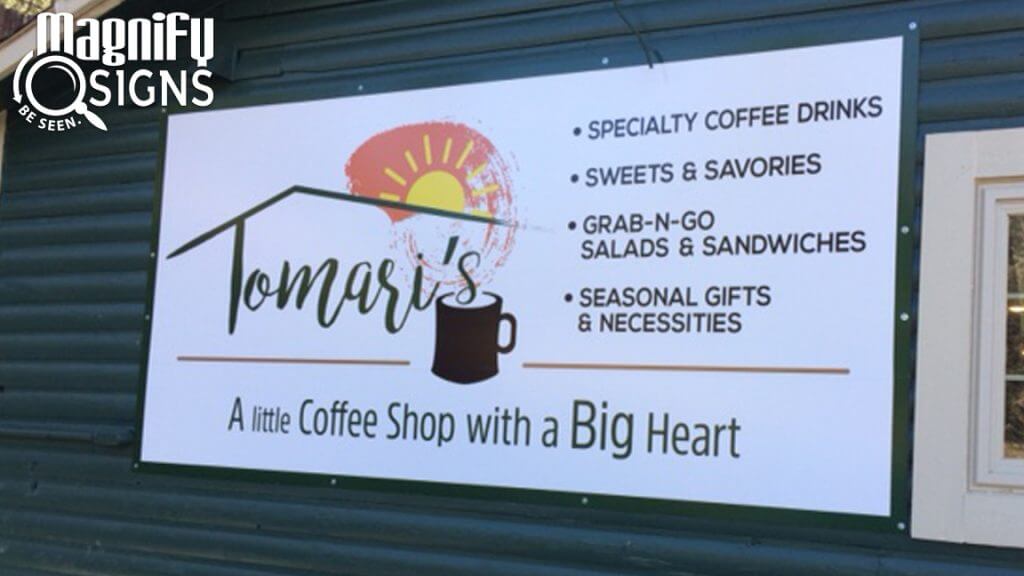 On the side of the building, the sign experts placed a 10 by 5 feet sheet of aluminum with vinyl print graphics mounted on the face. The graphics feature the company name and logo, with sales points to the right listing the products offered by Tomari's, and their slogan "A little Coffee Shop with a Big Heart" below.
On the front of the building, the sign experts installed a custom form PVC sign of the Tomari's logo in gold. The logo features the company's name, with the "T" arching over the other letters like the roof of a house, and a coffee cup under the final "s," as if the "s" is the steam coming out of the mug.
Magnify Signs lives to help establish small to medium sized businesses in their community. Tomari's made the right call by contacting the sign experts, because our signage is the best at getting our client's business' to Be Seen.