Effective Business Marketing on the Road
Vehicle wraps are a very powerful advertising tool and the smartest marketing investment you can make because of their cost-effectiveness, little maintenance, and the protection they offer to the vehicle's original paint. Plus, they'll go anywhere you go.
However, for a vehicle wrap to be attractive and create a positive impression, it is vital to choose a marketing and graphic design shop that uses high-quality materials, high-end printers, and professional staff to guarantee every product will be adequately constructed, last longer, and be installed correctly.  
We Offer the Most Attractive Vinyl Wraps in Colorado
At Magnify Signs, we offer premium vinyl wraps for company fleets, designed and installed by professionals who have many years of marketing experience. After we are finished, you'll be ready to hit the road and start driving new clients to your business with class and style. To get the most out of your investment, you can park your business vehicle in crowded places during the weekends, such as stadiums, shopping centers, and the like.
With a vehicle wrap, your marketing reach is practically limitless. It all depends on how long your vehicle is in a visible area. That's the reason why you need to make a smart move and get in touch with us so we can start working on a design to help you increase your sales.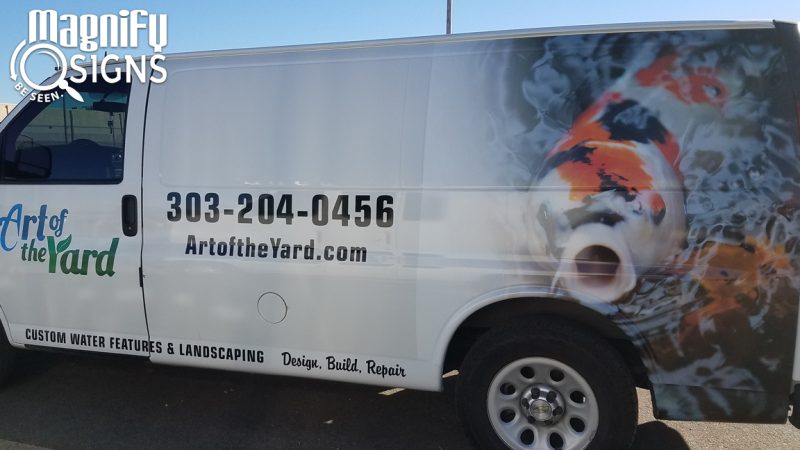 Marketing, Design Experience, and Quality at Your Service
When it comes to business marketing solutions in Colorado, we are your best choice. Our designers have more than 50 years of combined experience in graphic design products for small, medium, and large businesses. All of our signage products are custom made based on our clients' business needs. Contact us today and let us show you how we create high-quality and durable marketing solutions while you receive unparalleled customer service.