If you literally want high visibility for your business, a building sign is perfect for you.
Top building signs are fixed on the wall of your business, high enough to attract attention from a distance.
Why a Building Sign Matters
Top building signs are usually not what the passer-by who walks by your storefront will see, because they are located much higher than eye level.
However, if your business is in a high traffic area or customers approach it from a certain distance—for example because they face your business from afar as they enter a wide parking lot in front of your building—a sign installed on the higher part of the building will give your company maximum visibility to road users and approaching customers.
Building signs are often found on city-center businesses located around a large square, where people gathering on the square have a panoramic, open view to the surrounding stores, theaters, and businesses.
A sign visible from afar also helps your customers locate you and find their way to your business. Large, illuminated wall signs are classic attention-drawers that make your business stand out and entice prospective customers.
Also, signs that are installed towards the top of the building create a lasting impact. Your brand stands literally over all other brands, at the top of the building, at the top of the world. On some occasions, a building sign can even become an iconic symbol for a city or locality.
There are three main types of building signage, each associated with different advantages:
Channel letter signage,
Lightbox signage,
Aluminum panel signs.
Channel Letter Signs
Channel letter signage is an excellent way of branding your business with an attractive, professional sign day and night. Mounted on the exterior wall of banks, office buildings, retail stores, etc., channel letter signage offers a high-status, clean, polished look.
Channel letters are custom-made 3D letters, numbers, or shapes that have a face, return, and back and incorporate individual LED or neon lighting. They can be implemented in a wide variety of colors, sizes, and fonts to perfectly match your brand elements. Usually made of aluminum and acrylic materials, they are highly durable and cost-effective.
Channel letter signs can be lit 24/7 or you can choose to illuminate them during the evening and night hours only. In both cases, they provide excellent visibility both day and night to attract customers' attention.
There are three main types of channel letters, depending on the way they are illuminated:
Front-lit Channel Letters
Front-lit channel letters are a commonly used option. The back and returns of the letters are made of aluminum, a material that is very durable to the weather and does not rust. The face is acrylic and LED lighting is hidden inside each letter to illuminate it. Front-lit letters allow you to have any color or design printed on vinyl and mounted on the acrylic face.
Back-lit Channel Letters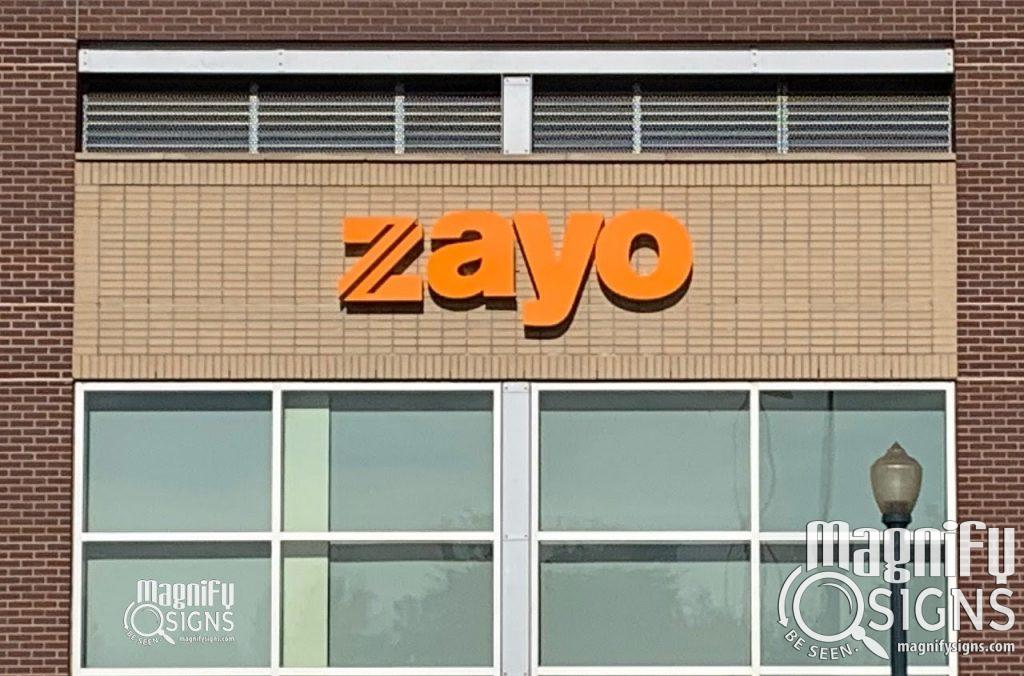 Back-lit channel letters, also called halo or reverse channel letters, are used to create a classy look with more subtle lighting. The whole letters, including the face, are created from aluminum and are mounted in a way that leaves a small gap from the building. The lighting is installed within this gap between signage and wall, creating a halo behind the channel letters.
Combination-lit Channel Letters
Combination-lit channel letters usually feature an acrylic face and a clear back. This allows you to illuminate each letter front with one color and provide a background halo of a different color. This allows for particularly bright, eye-catching signs at night-time.
Mounting Options for Channel Letter Signs
There are three main mounting options for Channel Letter signs: raceway, direct mounting, and backer mounting.
A raceway is a discrete metal box that incorporates all illuminating circuits for the channel letters. Channel letters are mounted on the raceway, which is then attached to the wall. Since fewer holes are required for the installation, this is an excellent solution when you want to preserve your wall. Raceways are often painted to match the wall and minimize distraction.
Direct (or flush) mounting on the wall, with the use of non-corrosive fasteners, is usually preferred with back-lit channel letters, as it allows the wall to show through the letters. The illumination wires are installed behind the facade or bulkhead of the building.
Backer mounting involves a flat metal cabinet, much larger than the sign, which serves as the sign's background. All electrical circuits used for illuminating the sign are hidden within this cabinet. This is a good solution if you have any reason to hide the wall, or if you want to create a contrasting background for your sign without altering the wall.
Lightbox Signs
Lightbox signs are cabinets with LED illumination that can be mounted on the wall to provide 24/7 visibility through illumination. Because light is their main feature, they make for highly visible signs from a distance and attract attention, especially in the dark. While they are a beacon for your business night and day, they are particularly suited to businesses operating mostly during night hours, such as restaurants, pubs, theaters, entertainment, etc.
Light Cabinet signs are made from a combination of aluminum, acrylic, and polycarbonate. They can be double-sided, which means they are ideal as monument or pole signs as they can be read from any side. One-sided lightboxes, on the other hand, are often mounted over the front doors of a business to attract attention.
Lightboxes allow you to be creative with colors, fonts, and backgrounds since your design can be printed on the polycarbonate face and inserted in the box. LED illumination allows for much more uniform, bright illumination of the cabinet compared to the light bulbs used in the past.
One of the advantages of the lightbox is that you can change the face easily and at a low cost, by printing a new face. If you are renting a building that comes with a previously installed light cabinet, you can use it to create your own sign for a modest investment.
Light Cabinet signs are durable, easy to install, and easy to maintain, especially when LEDs are used for illumination. LEDs have a long life, don't need regular changes, and are a low-cost, energy-efficient option.
Aluminum Panel Signs
Aluminum is a light but sturdy metal. It is easily shaped in various forms and resistant to corrosion and rust. This makes it an excellent option for outdoor signs, especially in the form of aluminum panels.
Aluminum panels can be mounted on any wall or fence and are ideal for large signage that needs to cover a sizable surface. You can print any kind of full-color graphics, photos, logos, or text on aluminum panels.
Aluminum Composite Panels (ACM panels) made from two aluminum panels with a polyethylene core placed in-between are also widely used. ACM panels are more rigid and durable than simple aluminum panels.
Aluminum and ACM panels are your best option if your sign has lots of text (for example, your logo, motto, address, and phone numbers). They are large enough to accommodate a longer message, like a banner would, and are easy to print with weather- and UV- resistant inks.
Tips to Creating Efficient Building Signs
Know Your Restrictions
One of the most important things about installing external signage is to respect the local and federal laws and regulations that may apply. You should consult your custom signs provider on these as well as any building restrictions that may apply. For example, rooftop signs are no longer approved in most cities as anything above the roofline is not allowed by code.
If you are renting your space, it is also important to respect your rental contract terms about what you can or cannot do with the building's façade. Many building owners have terms about drilling holes on the façade to install signs. For example, it is common to sign terms about installing signs on a raceway rather than directly mounted on the wall.
Finally, whether you own or rent your premises, building regulations may limit what your external signs are made from, how they are mounted, or what they look like.
Fit your Era and Area
Even if there are no specific regulatory restrictions, your signage should match the surrounding ambiance. While the objective of your sign is to make your business pop out, this should be achieved in a smart way that does not make your brand clash with the environment.
Your Sign Is an Investment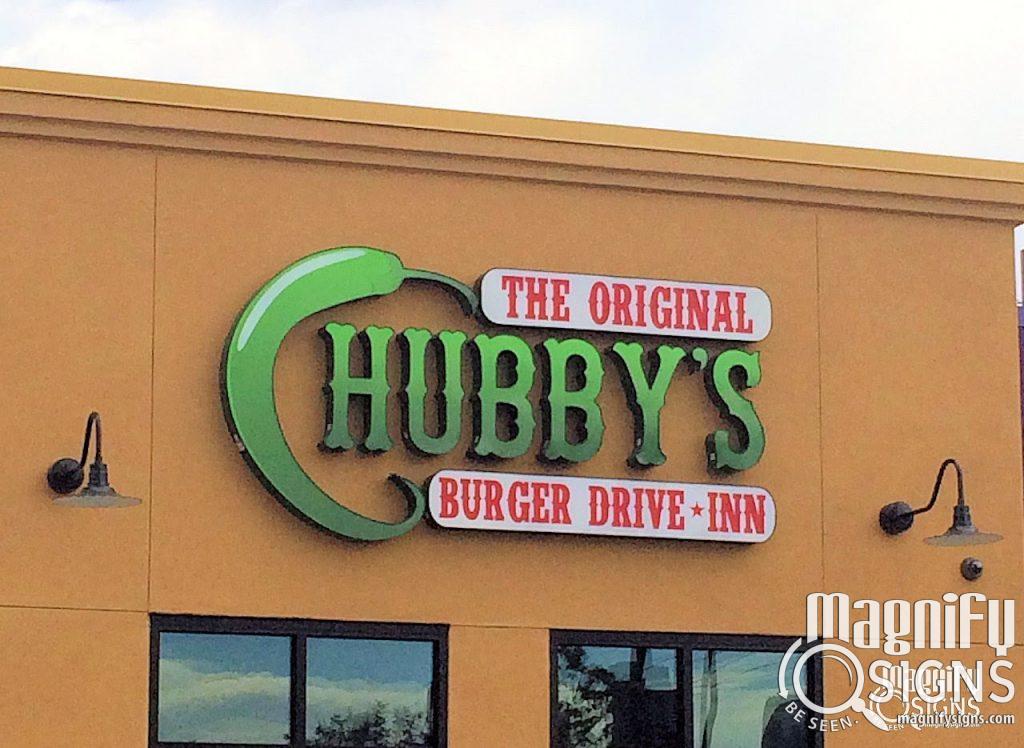 A building sign is an investment that should stay with your brand for a long time. This cannot be achieved without high-quality, durable, weather-resistant materials, and sturdy construction.
Your sign starts paying for itself the moment the first customers are attracted by it. Make the best out of your investment by using materials that do not rust, fade, or break easily. Opt for high-resolution digital printing that will not make your sign look grainy. Make an informed decision about illuminating your sign depending on your brand's needs and your building's characteristics. Ultimately, it is better not to have a building sign at all than having a poorly maintained one with fading colors, missing channel letters, or defective lighting that creates the wrong impression for your brand.
Think Landmark
A building sign has the potential of becoming a memorable feature of an area, almost like a landmark. Imagine people giving directions citing your brand: "after the XX store, turn right". Or using your brand as a meeting point: "let's meet in front of YY restaurant". Brand retention is a crucial marketing factor, turning passers-by into customers.
How can you achieve to make your building sign memorable? Here are three tips:
Think big. Consider how large your sign should be to attract and retain attention. A small building sign may not make your brand memorable. Choose fonts and colors that make your sign readable from afar.
Take center stage. Position your sign on the part of the building where more people will see it. If you are installing a building sign, consider various angles and their visibility. For example, if there is a popular viewpoint of the city and your building is visible from there, consider angling your sign in a way that lets it become part of the view. Make it gorgeous so that people have no problem including it in their photos.
Think out of the box. A rotating pole sign could have more impact than a fixed one. Adding a clock to your sign if your business is located on a popular meeting point could make your brand more memorable. Unusual attributes that make your sign stand out will turn it into a feature over time.
For more tips and ideas on creating the perfect building sign, call now 303-647-9005 or contact Magnify Signs online!