Custom vehicle wraps are a great way to advertise your business on the road without even trying. Wherever your car—or truck—is, whether on the road, waiting at a traffic light, or parked, it becomes a moving promotional sign for your brand that attracts attention from other drivers, pedestrians, and even people just looking out of their windows.
If you have a fleet of vehicles, you have even more promotional opportunities, as each vehicle becomes another advertisement.
Here are 4+1 pro tips to help you make the most of this potential.
4+1 Tips for Great Quality Car Wraps
1. Choose High-Quality Material
As with so many other things in life, with custom car wrapping, you get what you pay for. You want to make sure your car wrap is durable and withstands the elements, just like you want your marketing strategy to be long-lasting and effective for as many years as possible. That being said, you also want to use materials that can be safely removed from the vehicle's surface when you need to update them.
In Magnify Signs, we use the best materials—3M vinyl and laminates—since these offer the best and brightest graphics and the most durable vinyl in the business. Custom vehicle wraps are exterior signs, so it is vital to have graphics that won't fade in the sun or become damaged in inclement weather.
While sturdy and durable, vinyl wrap is also easy to remove and does not damage the vehicle's paint. You can safely remove it to update it with a new wrap or simply return the car to the factory paint, still as good as new.
2. Think Brand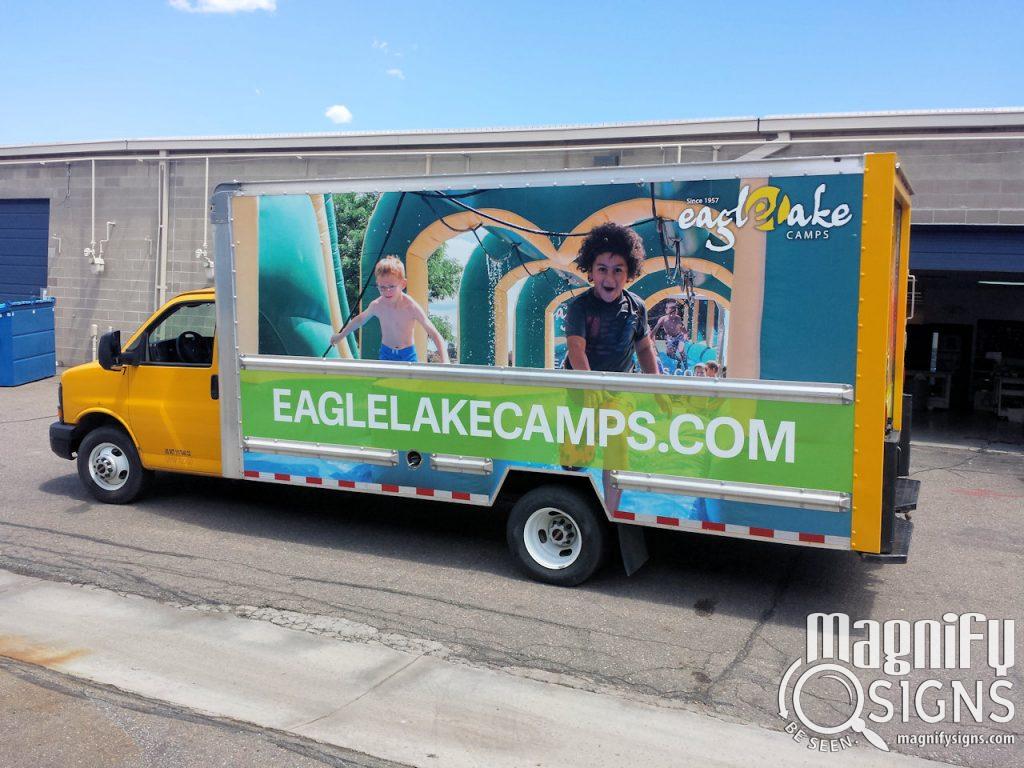 An effective brand is designed to raise awareness about your business. People who see your car should be able to identify your business if they happen to walk by your front store or if they see other promotional signs and advertising material. A full wrap offers more options for branding your car.
It is, therefore, important to include your brand's characteristics in your vehicle wrap design, taking your business name, logo, signature color scheme, or font styles into consideration. If your brand is already solid, its main elements should figure prominently on the wrap to help people associate the car with your business in the brief moment they see it on the road.
If you don't have a solid brand yet or if you are planning to implement a new logo or colors in the near future, consider working on them before you proceed with car wrapping. This way you will make the most of your car wrap.
3. Keep It Short and Clear
For the most part, people are going to see your vehicle wrap while in motion. The viewers will be mostly other drivers or pedestrians who barely have a few seconds to look at your design. Therefore, you should keep your message short and eye-catching.
The purpose of the design is to get people to remember your business. You only need a few key elements to do that: a strong brand implementation, tagline, web address, and maybe a phone number. Avoid bullet lists, as people will lack the time or attention span to read them.
While branding is important, so is making clear what your business is about. If your brand name doesn't clearly convey the industry you are in, you need to find other ways to make it clear, or your car wrap is a lost opportunity for real customer awareness. For example, you could add your main product or service under the business name (e.g. 'Owens—Event Organizer and Catering'). You could also use an image conveying your industry.
4. Make It Visible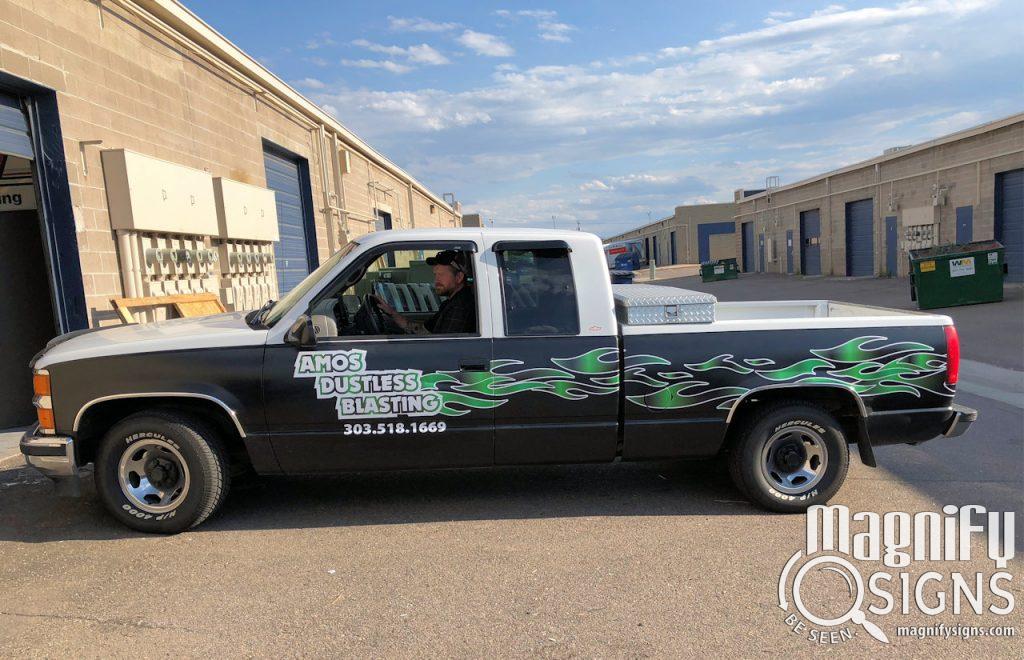 Vehicles—especially larger ones such as trucks—offer spacious surfaces that let you go big. Whenever you can, go for large lettering and bright colors. Visibility is one of the reasons to opt for full rather than partial wrap, as you can make your message visible from various angles with a full wrap.
Make your message visible by opting for large fonts that are easy to read. Avoid fonts that are difficult to decipher, such as scripts, "handwriting," or elaborate serif fonts. Go for a large, simple message that people can absorb with just a quick glance while speeding past.
Color is the third factor that can enhance the visibility of your message. Choose vivid, contrasting colors from your brand's color scheme to make your message appealing and highly visible.
It is advised to avoid busy backgrounds (such as photos) if you want your name and tagline to stand out at a glance. Also, avoid neutral backgrounds such as whites, light greys, or creams. If you can choose a color that you don't see on the road usually, it will surely attract attention.
+1: Avoid Epic Fails
How can a car wrap become a viral epic fail?
Well, imagine the business named Super Glass Cleaners. When their van's door slides, the "Gl" slides and leaves only the rest of the business's service visible. You get the picture.
Embarrassing mistakes can happen if you don't consider your concept under various angles, sliding doors, rolling down windows, and opening the rear of the vehicle to ensure that crucial text and images always appear correctly. Furthermore, a design that looks great when seen flat in 2D may be distorted when applied over the curves and angles of a vehicle.
Car Wraps Are Good for Business
So, now that you know how to make a great car wrap, why do you need one in the first place?
Well, if your car remains parked in front of your store during the whole day, car wrapping may not be the ideal solution for you. But if you provide services by going to your customers rather than them visiting your business; if you have a sales team that is out all day; or if you have a delivery truck, then car wrapping could be an effective attention grabber.
Here are some reasons why car wrapping is good for your business.
Deliver Your Message Everywhere
Car wraps are a bold way to introduce your brand to thousands of people without limiting the advertisement to a specific location. Since vehicles are made to move around, your message will be seen at locations where advertising is scarce—for example, in locations with no advertising signs available to rent. Your message will also be seen in locations where advertising is too costly—for example, downtown, where renting advertising space often costs top money.
Capture the Attention of a "Captive" Audience
We've all been stuck in traffic, desperately looking around for something to entertain us or just waiting patiently (or not) to move forward. As people's gazes jump from cars to vans, they will notice the vehicle displaying in bright colors a logo, line of work, and tagline, especially if these are accompanied by a great image.
Display Your Professionalism
If your business is constantly on the road, it is important that you carry the company brand with you. It's an eye-catching promotional technique that shows your professionalism and attention to detail. Customers always appreciate that.
If you service your customers at their own location, going there in a branded car is a display of your business's level of professionalism, assets, and branding. Instead of arriving in just any, no-name vehicle, you're using what can be clearly identified as a business vehicle—a mark of an established, proud company.
If you have a fleet, wrapping all the vehicles in a homogeneous way helps the customer identify the brand even if the vehicles differ in size, type, etc.
An Opportunity to Stand Out
Because car wraps are custom-designed, they offer you the opportunity to create a promotional tool that will stand out and be unique to your brand.
Custom car wraps have yet to become a standard among businesses, especially for smaller vehicles. When you're on your morning commute, your vehicle is going to look unique standing next to all the boring, single-colored cars. Whether it is a car wrap, pickup truck wrap, or box truck wrap, a custom vehicle wrap is sure to stand out.
Good for Your Car
Besides looking cool and promoting your brand, a full-vehicle car wrap placed over factory paint preserves your car's resale value. If you buy a car with the intention of reselling it at some point, vinyl wrapping won't only provide you with a marketing tool, but will also protect your asset's value.
This is because a high-quality wrap is easy to remove and doesn't harm the paint underneath. On the contrary, vinyl wrap provides a durable layer of protection to your car and factory paint. For example, when driving on gravel, your car can take a pebble without the original paint being scratched. When you remove the wrap, the car will still look as good as new.
In Magnify Signs, we make sure your wrap is eye-catching for all the right reasons. We design around vehicle parts such as door handles, windows, bumpers, license plates, keyholes, lights, etc. to make sure that your wrap and message always remain intact, with no letters lost, split, or distorted.
If your business vehicle is frequently out and about, then using car wrapping can become a powerful promotional asset. Contact Magnify Signs online or call now 303-647-9005 to create the perfect car wrap to promote your brand!