After scouring the Loop Net listings, you have found the ideal Englewood office space. You negotiated a favorable lease, signed on the dotted line and now have the keys to your new office. Do you know what you need to do next? Get your customized lobby sign!
Choosing the Right Materials
This signage product is one of the most important investments you can make in your business. It greets clients and consumers interested in your products or services. Yet even these folks still need to be convinced that you are the right company to get the job done. Just because they are sitting in your foyer does not mean that the deal is closed. Englewood lobby signs handle all of these tasks – and more!
When commissioning custom lobby signs for Englewood, CO, your budget is most likely the driving force. There are plenty of material selections that look great but will not cost you a mint.
Acrylic. Modern, chic and sophisticated, acrylic is the type of material that suits a wide variety of businesses. Whether you operate a software company or a pediatric dental office, acrylic is perfect for you. Lightweight and available in a broad range of colors, it is easy to customize the letters to your needs.
Metal. Metal bespeaks longevity, steadfastness and time-honored traditions. Not surprisingly, this material appeals to companies in the financial sector. It is also a favorite of attorneys. Brushed aluminum, copper and satin-finished brass are just a few of the options to choose.
Foam. One of the most inexpensive signage products, foam is nevertheless sturdy and attractive. Because it can be cut from thick boards, you have the added benefit of creating three-dimensional displays with it. With the help of paint, it is easy to heighten this effect. When you want to go for the gusto, aim a spotlight or two at the lobby sign for a truly dramatic effect. There is still more that foam can do. When the budget is tight but you like the look of metal or acrylic, why not use laminates that we then install to a foam substrate. Paint makes these materials blend in and seamlessly connect.
Opting for the Right Installation Method
Lightweight letters install directly to your wall. We work with you to discover the best spacing, which turns your focal wall into an artistic display that also brands and markets. For the slightly heavier signage products, we choose offset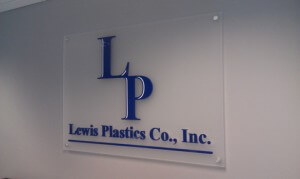 mounts. They are fashioned from brushed aluminum that adds a classy touch and ensures a secure mount. When you have selected a lobby sign crafted from a more exotic material – wood or stone – we will use studs and other anchors to ensure a safe and long-lasting installation.
Where to Buy Lobby Signs in Englewood, CO
Magnify Signs is your go-to expert for all of your signage needs. Whether you simply need a reception area sign or want to discuss a full suite package that is customized for your business, we can help. Talk to our professionals today for more information on the various materials and products that are available.