A large number of Denver contractors rely on trailers. Whether you operate a landscaping business, a construction enterprise or provide in-home services for appliance repair and installation, these trailers allow you to haul machinery, hardware, tools and take away unwanted appliances and other items. When you consider how much space there is on the sides and back of a trailer, it only makes sense that they are prime real estate for contractor trailer lettering. For Denver contractors, this trend is quickly catching on.
Examples of Trailer Lettering and Graphics Abound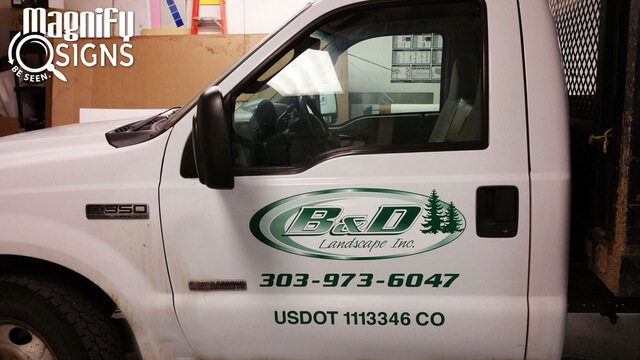 Pro Form Concrete relies on a trailer to haul heavy equipment and raw materials. The availability of a closed-in trailer allows these professionals to visit multiple jobsites each day without having to stop at the office. When parked in front of a customer's home, the vinyl applications on the utility trailer let everyone know who is doing the work at the residence. A phone number added to the name makes it easy for prospective customers to contact the business.
B&D Landscaping uses the trailer to haul tools and sometimes plants. Given the uncertainties of Denver's weather, it makes sense to protect these valuable investments with an enclosed trailer. These professionals chose printed graphics on vinyl with a contour cut. They highlight the company's name as well as the logo and display contact information in addition to the website address. When a homeowner sees this trailer set up in front a customer's home, the high-quality look of the landscape may result in an automatic referral to the professionals – the readily visible contact information makes it easy.
Choosing Your Graphics and Lettering for Effectiveness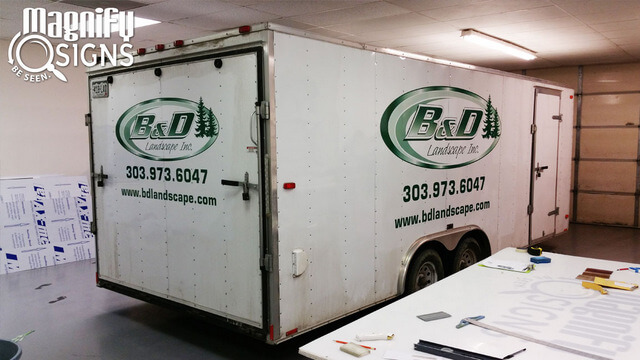 Whether you go with a black on white look or prefer colorful vinyl, the signage technicians at Magnify Signs can help you to be seen.
Company name and logo. We always recommend that you display your company's name and logo. This is particularly crucial if you have a website. Since a large number of consumers check out a business prior to making contact, it pays to have the same look on your trailer as would-be customers see on your website.
Contact information. What is the best way to get a hold of you? If you are an owner/operator, the best way of contacting you might be by cell phone. If you have a support office, that number and perhaps also the address would be more helpful. A website address never hurts. The same is true for your social media handle – if you are active on Facebook, Twitter or another platform.
QR code. The quick response (QR) code is an optional decal that we gladly add to your display package. When scanned with a smartphone, it takes the consumer to a dedicated page of your website where you offer specials, printable coupons and access to a newsletter signup button. Many of our clients report excellent success with this marketing tool.
Getting Started
Call us today to get started on your order of contractor trailer graphics for Denver and its surrounding areas. We work with you to incorporate any artwork that you already have on file. If necessary, we gladly create the look of your graphics and lettering from scratch.