Health Images has been a client of Magnify Signs for 2 years. Health Images owns Specialty Imaging, which neighbors a business called Resilience Code. The sign experts work with Health Images sparked interest from Resilience Code, so they called to have their business Be Seen.
To start off, the sign experts placed custom vinyl lettering and the Resilience Code logo on the front glass doors of the building. To the left is the Resilience Code logo and name, with some details on how to find their office below the name. The right door showcases one of the main services offered by Resilience Code, with more directional signs below.
In order to breathe life into the waiting room, the sign experts placed several equations in custom frosted vinyl on the glass windows around the room, using designs provided by Resilience Code. The equations express the scientific and sophisticated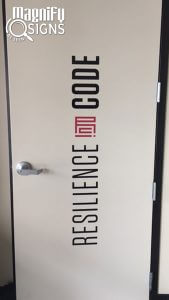 On two doors in the office of Resilience Code, the sign experts placed their name and logo vertically on the wall. The letters are 6.5" across and span 48" inches up and down the door. One logo was placed on a glass door, and another on a steel door.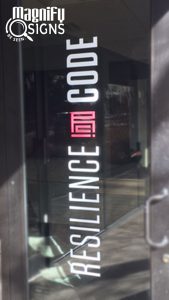 The sign experts do excellent work with cut vinyl signs. Resilience Code now has their name and logo on the front door and around their office, wayfinding, and decorations for the waiting room, all from custom cut vinyl. If your business needs the same or similar vinyl treatment, pick up the phone and call the sign experts. We'll do our best to make your business Be Seen!