Located at 14505 West Maple Road in Omaha, the Fabulous Fashions Boutique specializes in high-fashion design wear that appeals to the contemporary consumer. Expertly mixing classiness with a trendy attitude, the clothes are unique, attractive and on the cutting edge of chic. When it came time to commission the lobby sign that would perfectly brand this must-visit locale, Fabulous Fashions contacted Magnify Signs to be seen.
Lobby Sign Fabrication
At first glance, it may seem odd that a Nebraska company contacts a Colorado sign maker. Yet considering that we design, manufacture and ship lobby signs nationwide, it is not surprising that our reputation brings us clients from other parts of the country. We discussed the signage need with the boutique's management team and also studied photos of the venue. The finished product is a layered brown acrylic marker that we routed. By applying digital prints, we create a truly fabulous look that perfectly summarizes the atmosphere of the boutique.
The sign is designed for flush stud mounting, which integrates it with the wall's overall setup. The result is an organic fit that looks eye-catching, is functional and brands as well as markets. This, after all, is what lobby signs are all about. Whether we work with local clients or those a state (or two, or three) away, the request for an expert branding message is the same. To this end, we employ several tools.
Reception Area Signs Nationwide!
Site evaluation. We like to visit our local clients' shops or offices. This allows us to take measurements for the perfect fit. It also lets us take in the fabrics, colors and textures that make up the décor. When we cannot be there in person, we usually request photos. This allows us to advise you on the right size for the marker, the color scheme that would suit your venue perfectly as well as the material that fits well with the décor.
Message. Most clients only want to see their company name represented in a lobby sign. Others like to include a niche explanation or tag line. We can work with a wide variety of text requests, which gives you the freedom to market and brand your products and services in your way.
Materials and colors. There is no such thing as an impossible sign design request. In some cases, it may just take a little longer to come up with the right manufacturing technique to make the material look the way that you envision it. For this reason, our professionals are experts at a wide variety of manufacturing options that are material specific but also look specific. By the way, if we do run across a material and design combination that simply is not possible to achieve, we promise you that we have a work-around.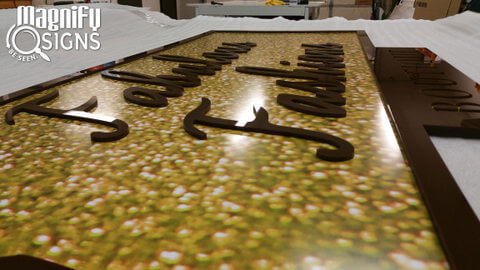 Installation. Our local clients appreciate our professional installation services. We visit your venue when it is convenient to put up the marker. However, if you are the buyer of one of our nationwide lobby signs, do not worry! We not only include the hardware but also easy-to-follow instructions that make the self-install a snap. If all else fails, we are just a phone call away.