Put your best foot forward with the type of lobby sign that identifies your business as being at the forefront of innovation in your chosen niche. Whether you are in the medical field, operate an investment firm or welcome consumers to your company's corporate office, you need a sign that brands as well as markets. Accomplishing this goal relies in large part on the choice of the right signage materials.
Material Options
Foam is one of the most versatile signage materials currently available. It allows for the creation of vivid markers with a three-dimensional look that turn your foyer into a dramatic display where your company's name and logo feature front and center. Dress up the material with a coat of paint or select laminates.
Acrylic, plastic and PVC are other attractive choices in this setting. PVC in particular is ideal when you want to use heat bending to create a wave-like look. Metal is best for businesses that seek to present with a long-lasting appeal. Glass, marble and lumber are unusual materials, but it is this aspect that endears them to companies in the creative niches such as software engineers and architectural firms.
Manufacturing Techniques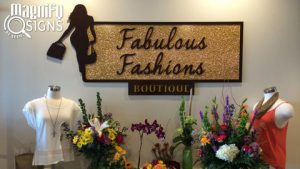 Just as the material selection bespeaks the vibe of your business, the manufacturing technique you select for your lobby sign also adds to the presentation of your corporate persona. For example, the use of layered acrylic boards with three-dimensional style elements identifies you as a business owner with the ability to think outside the box. For the professional who appreciates the crisp lines of die-cut metal, the sign exemplifies the cutting edge that makes up the business model.
Putting it Together
Your lobby sign is an expression of your company's business model. It gives consumers an insight into your corporate personality and the goals you are setting for the business. This is where manufacturing techniques and material choices go together in the creation of a marker that uniquely identifies your company. Color selections also factor into the mix. Usually, clients like us to use one or more of their chosen company colors or go with the look they have chosen for their corporate website.
The professionals at Magnify Signs assist members of the business communities in and around Denver, Englewood, Littleton, Lakewood and Centennial with their signage needs. We work with you to establish your branding message and then present you with product solutions that fit. Contact us today for more information on lobby signs and related products.