You find the KompetitiveEdge at 3820 South Federal Boulevard. This company specializes in equipping athletes with perfectly balanced gear and apparel that makes athletic achievement a bit more comfortable and grueling competitions a lot more bearable. Whether you swim, bike or run, there is a piece of gear or a nutritional product that brings out your inner athlete like never before. When it came time to add a partial car wrap to enhance the company's brand presentation, the management team contacted Magnify Signs.
BMW Partial Car Wraps Sheridan, CO, Consumers Notice
KompetitiveEdge's partner in this project is Ralph Schomp BMW. The vehicle is a 2013 BMW X5, which looks amazing. After consulting with the client, we designed and installed a partial wrap that included the mirrors as well as the front grill. The resulting look features blue accents on the white vehicle. It shows off the company's name and logo as well as contact information. In addition, a rear window vinyl perforated window graphic explains the company's niche. The resulting look is interesting and makes excellent use of the vehicle's lines.
What Could You Do with a Partial Vehicle Wrap?
There is no shortage of advantages to adding a mobile marketing setup to your advertising package.
Turn heads. It does not matter whether your product or service is related to anything automotive. You can still use any type of vehicle as a canvas for your message. Consider the use of a delivery van, a pickup truck, a passenger car or anything else. When we combine the color of the partial wrap with the color of your vehicle, you succeed at using a work of art for your branding.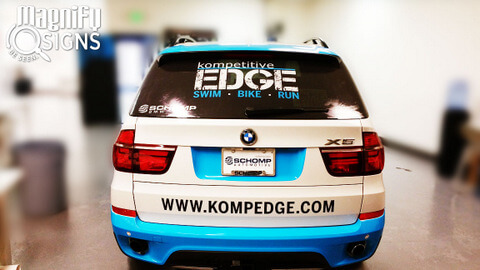 Take your message to the people. Perhaps you have a loyal following in your part of town. How can you reach out to the folks in another part of town? The answer is simple: Drive there. An expertly wrapped vehicle features your marketing and branding information, which appeals to prospective customers and those who have never heard of your business before today.
Invite targeted interactions. More and more business clients target their wraps' messages to enhance certain types of interactions. Some focus on a social media approach that allows them to interact with folks via Facebook or Twitter. Others emphasize a website. Do so with a QR (quick response) code or simply by stressing a website address.
Schedule Your Consultation Today
When you want one of the partial vehicle wraps Sheridan, CO, consumers cannot help but notice, contact our professional graphic artists. We work with you to put together a comprehensive graphics package that incorporates your vehicle's color and look. In addition, we highlight your information in the most advantageous manner possible.
When you already have artwork on file, we use it for your partial wrap. If you do not yet have the graphics you need, we can help you there, too. We gladly design the entirety of the partial wrap from the ground up. By the way, we also work with fleets. Let us know if you have more than one vehicle you want us to wrap.