Custom vehicle wraps are getting more and more popular every day, and with good reason. Vinyl wraps have many advantages and provide excellent results for small, medium, and large businesses who are looking to create brand awareness and advertise their products and services at an affordable rate.
4 Reasons to Choose Our World-Class Vehicle Wraps

1) Durability
One of the biggest advantages of premium vinyl wraps is that they are very weather resistant and are almost maintenance-free. So, whether you get caught in the hail or mounds of dirt, you can rest assured that your vehicle graphics will still be there once you escape. Wrap vinyl is higher quality than cut vinyl, and has a greater life without possibility of getting sunbaked or peeling.
2) Cost-Effective
Custom vehicle graphics are much more affordable than other conventional marketing products, with the added value that they are a one-time investment, so once they are installed on your vehicle, you don't have to worry about maintenance or replacement costs. Generally speaking, vehicle lettering is the most cost effective version, while partial wraps and full wraps can be more expensive, but a solid investment.
Another option for box trucks and semi trailers is the Billboard Banner Framing System, which allows Magnify Signs to easily, quickly and cheaply replace custom graphics on the side of your box truck or trailer. Ask us about it today!
3) Reach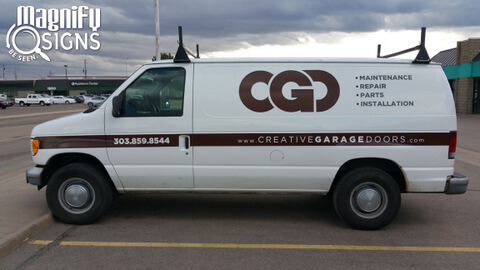 Vehicle wraps will go wherever your vehicle goes, which is why they have so much reach. If created by a professional designer, they will catch your potential target's attention and can generate a significant number of contacts from your audience. We can't tell you the number of times we've been stopped  by potential customers driving around Colorado in our custom wrapped truck, and the same could happen to you and increase your business presence.
4) Effectiveness
If you are looking for an effective marketing product to stand out and attract new customers to your business, then vehicle graphics are the way to go. This powerful advertising method allows you to create any design you want and shows it to a wide number of viewers while driving around town. If you want to go the extra mile, you can park the vehicle in crowded areas to make it even more effective.  
Contact Our Expert Designers and Let's Get Things Wrapped Up
Contact us today and let's discuss how you can add custom graphics to your business fleet. We will work with you to understand your business needs and provide expert advice about your signage options. We want to help your business Be Seen!