Happy summer, the perfect time to get out and enjoy the best of what Colorado has to offer! At Magnify Signs, we're more than just a sign company, but also an actively engaged group of community members. While we spend most of our time thinking about signage and the best solutions for our customers, we've all got passion projects as well.
Most early mornings and weekends, you'll find Tim, our owner, out and active; as a triathlete, Tim is often swimming, biking or running. Tim has three Olympic triathlons scheduled this summer, in Colorado, Iowa, and Nebraska. Here he is most recently participating in the Boulder Triathlon in June.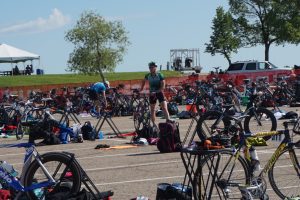 Not far behind him, Oliver, Magnify's Project Manager, is usually similarly clad, participating in trail running events across the state. So far in 2017, Oliver has competed in 4 marathons and ultras, all in Colorado, and qualified for the Boston Marathon. Most days when not at work, you can find him out on his bike or on trails.
On the design side, our graphic designers creativity extends well beyond their work in signage. Gary, who does design and production work at Magnify and has 30 years of sign industry experience, is the bass player for his band, Second Chance. The band can usually be found playing the outdoor deck at Cactus Jack's in Evergreen to a packed crowd!
Last but not least, Mike, another member of the design team is artistic both at work and at home. Mike recently was accepted and participated in the 2017 Denver Chalk art festival at Larimer Square. Mike has two dogs and three cats that keep him busy outside the art scene, but its rare to meet such a cat lover.
Magnify Signs staff proactively stays involved in many local non-profit and charity organizations and community events. We're real people, with real lives who help our clients tell their business story with the best signage solutions in the Denver Metro Area. Come check us out and get a free quote