National Seating & Mobility Adds Fleet Lettering and Graphics!
Located at 4111 South Natches Court in Sheridan, National Seating & Mobility is a company with multiple branches nationwide. In the business of providing clients with customized mobility solutions and adaptive seating systems, they are now one of the country's foremost assistive technology providers. The company serves clients that range in age from toddlers to seniors. When it came time to make the company more visible to consumers in and around Sheridan, the management team contacted the signage professionals at Magnify Signs to be seen.
Fleet Lettering and Graphics for Sheridan, CO
The company's vans are white. We added the logo and company name to the sides and back. We repeated the look on the doors, too. On the sides and back, we also integrated the company's tagline and contact information. The well-known blue logo now easily helps the business to stand out while making deliveries. Although the company is already at the forefront of its niche, this marketing approach actually helps to educate consumers about the availability of the service and the company that does the work. In a highly specialized niche such as adaptive seating and mobility, this is a crucial aspect of successful marketing.
Fleet Graphics Beat Billboards
It would be tempting to leave the advertising and creation of brand awareness to a billboard. Yet when you remember that the billboard's message may not reach your target demographic, you could actually be wasting your money. In addition, any change of traffic flow will severely affect the number of motorists who actually take in your message. After your prepaid time on the billboard expires, your sign is removed. This usually happens within three to eight weeks.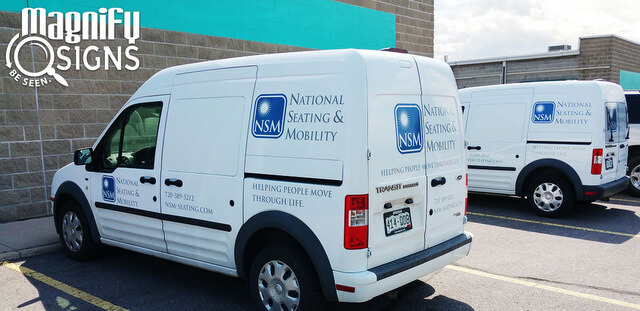 With fleet graphics, you get at least five years of continuous marketing out of the product. Rather than being at the mercy of traffic flow, you have the option of taking your vehicles into the neighborhoods where your target demographic lives, works and plays. The more fleet vehicles you have treated and sent out, the more impact you make on the consumer. This is an excellent method for following up on a direct mail or email marketing campaign.
Signage Add-ons to Consider
We recommend the addition of a QR (quick response) code to your decals. It allows smartphone users to scan the code and visit a web page that you set up. Depending on your business, this page may feature special offers, a detailed explanation of your niche product or service, or could be an introduction as well as an invitation to sign up for an email newsletter. Perforated window vinyl allows us to display graphics not just on the vehicle itself but also on the windows. Your drivers can still look out, but passersby and motorists only see the marketing message.
Call our professionals today to commission your fleet lettering and graphics in Sheridan, CO. We work with your management team on the layout and incorporate all of the graphics and style elements that you require. When you want to change things up, we put together a lettering and spot graphics setup from scratch.