What Can Vinyl Lettering & Graphics Do for You?
Vinyl lettering for your fleet of vehicles is a great way to refresh your company look and messaging. The new year brings new energy and opportunities to create a favorable impression on potential customers or showcase your style.  Quality automotive vinyl graphics are one of the most cost-effective forms of advertising.
This type of sign can help your company increase brand recognition, create effective outdoor advertising, and make company vehicles easily identifiable. In addition it gets your company brand exposed to numerous potential clients every time the vehicle is driving the streets.
Importance of Quality Products
There are several ways that fleet lettering & graphics can help improve your company's brand image. If your company needs to travel long distances every day, a fleet of cars or trucks with your logo can be an excellent strategy for raising company awareness far and wide. On top of this, your company's vehicle can be a great way to offer customers a tangible image of your business.
Well-designed fleet lettering & graphics can provide a significant boost to your marketing efforts. And, it only takes a one-time investment per vehicle! Don't risk your investment by going cheap on fleet graphics as they can harm your brand. Make sure to hire a signage company that is reputable and uses quality materials and proper installation techniques to do the job right.
The Best Vehicle Lettering & Graphics for Your Business
While fleet lettering & graphics are in fact an investment, you want to make sure it is a high-quality investment. This means that the least expensive option may not be the best one because it could deteriorate rather quickly. Trust Magnify Signs for your next project. We are a sign company that has over 30 years of helping businesses across Colorado with their advertising and marketing programs.
We also offer Vehicle Wraps, Van and Truck Lettering & Graphics, Enclosed Trailer Lettering & Graphics, Box Truck Lettering & Graphics, Motorcycle, and Boat Lettering & Graphics.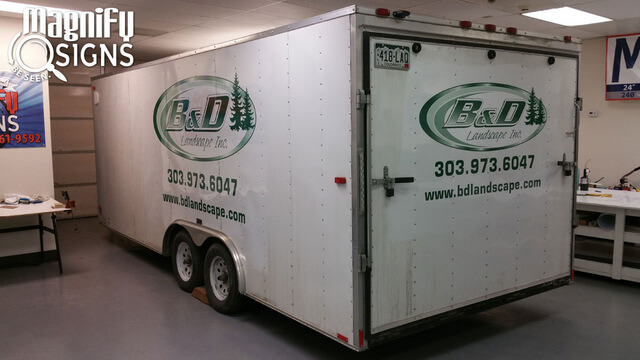 Call us at 303-761-959 to speak with a professional vehicle graphic designer.