If your building is located right by a busy intersection, you have the perfect advertising opportunity. Countless drivers constantly stumped by the stoplight are going to need something to look at while they wait. The people from Polish Pottery are now seizing their opportunity with their new exterior signage to show off their products and bring in customers.
On the front side of their shop, Polish Pottery had the sign experts at Magnify set them up with custom print perforated window vinyl. The store owner at Polish had a photographer come in for a photo-shoot of the store's products for the sign's design, all made and imported from a little village in Poland.
The sign experts at Magnify took the best photo taken by the photographer, and turned it into four panels of custom print perforated window vinyl. The photo showcases the store's products, displayed neatly on a round table. Above the photo reads "Heirloom Quality Polish Pottery," and below it reads "Microwaveable, Oven Safe, Dishwasher Safe, Freezer Safe." The perforated window vinyl will allow people from the inside to look out, block the inside from the outside, as well as provide some much needed shade from the beating Colorado sun.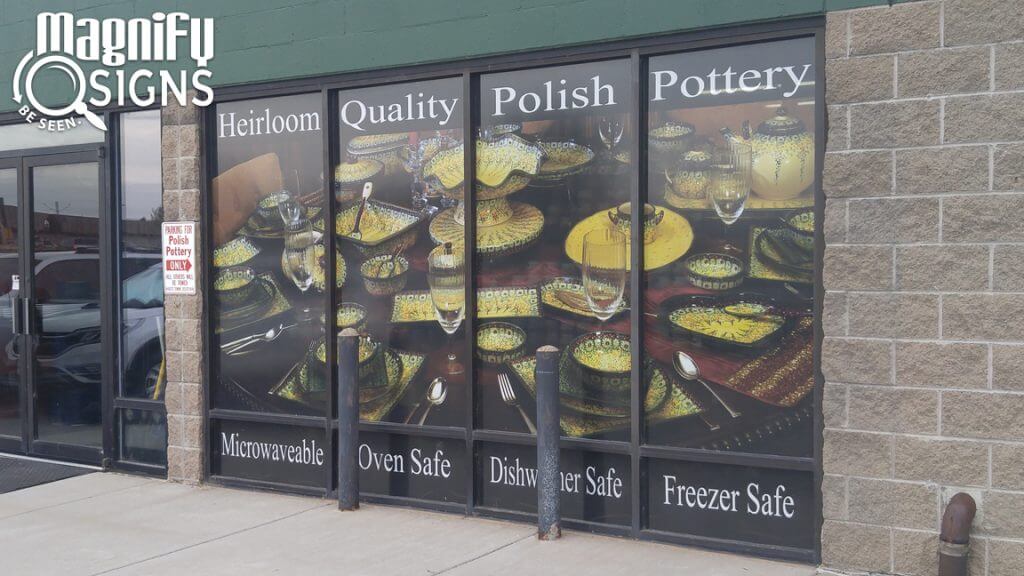 It's important to ensure your business is using all the signage it can to attract customers and bring in a better bottom line. If you think your signage isn't doing enough for you, give us a call. We'll go through your site and make our best recommendations as signage experts on how your signage can help your business Be Seen!