The sign experts at Magnify Signs are known for their excellent lobby signage. Any visitor to our website will quickly see that custom lobby signs are our pièce de résistance. Lobby signs are the central sign for any business, setting the image for employees and customers alike. Broadway Smiles took notice of our creative skill, and gave the sign experts a call to complete their signage centerpiece.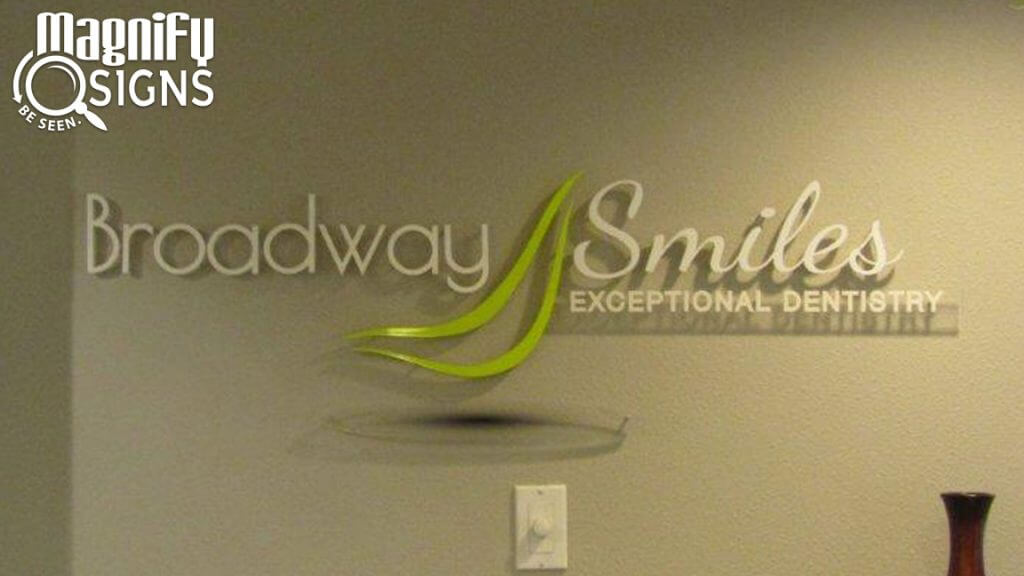 Here we have a set of white custom cut acrylic letters reading "Broadway Smiles Exceptional Dentistry," with the company logo of a green smile placed in the center. "Broadway Smiles" is made up of 5-inch-tall letters, while "Modern Dentistry" is comprised of 1-inch-tall letters. Below the green smile is a small piece of clear acrylic with a vinyl print of a shadow mounted to the face, giving the smile a three-dimensional look.
The folks at Broadway Smiles were having difficulties with their clients finding them in their building. To solve the issue, in the foyer area near the dentist's office entrance inside the building, the sign experts placed a 48-inch-tall by 16-inch-wide frosted acrylic panel with the same custom cut acrylic letters mounted on the face. The letters feature the exact same components of the lobby sign; the "Broadway Smiles" name and logo in white lettering with a small shadow below the smile.
Along with the acrylic panel and lettering to help clients find their door, the sign experts at Magnify also provided a small 18-inch-wide by 8-inch-tall piece of aluminum with a vinyl print of the company logo and the names of two doctors at the office in either bottom corner. The small panel is placed to the right of the door, while the acrylic panel can be found on the adjacent wall to the left.
Now Broadway Smiles can boast exceptional signage which reflects their exceptional dentistry. The sign experts are proud to have helped another office establish their company identity and Be Seen!