If your company decides to re-brand with a new logo, you quickly realize your internal and external signage needs to be updated. So if you're re-branding, call the sign guys at Magnify Signs and we can help plan the transition for you. That's exactly what Project One did when they decided to create a new logo for their business. Having previously produced signs for their conference rooms, the sign experts at Magnify Signs were happy to help Project One update their brand.
Here we have the new Project One lobby sign, created using their new company logo. The sign features a clear acrylic panel with white backer and 1/8 inch thick raised acrylic letters mounted on the face. The acrylic letters are custom cut and painted to completely match the new Project One brand. Instead of being mounted directly to the wall, the sign hangs from two steel cables hooked to the ceiling.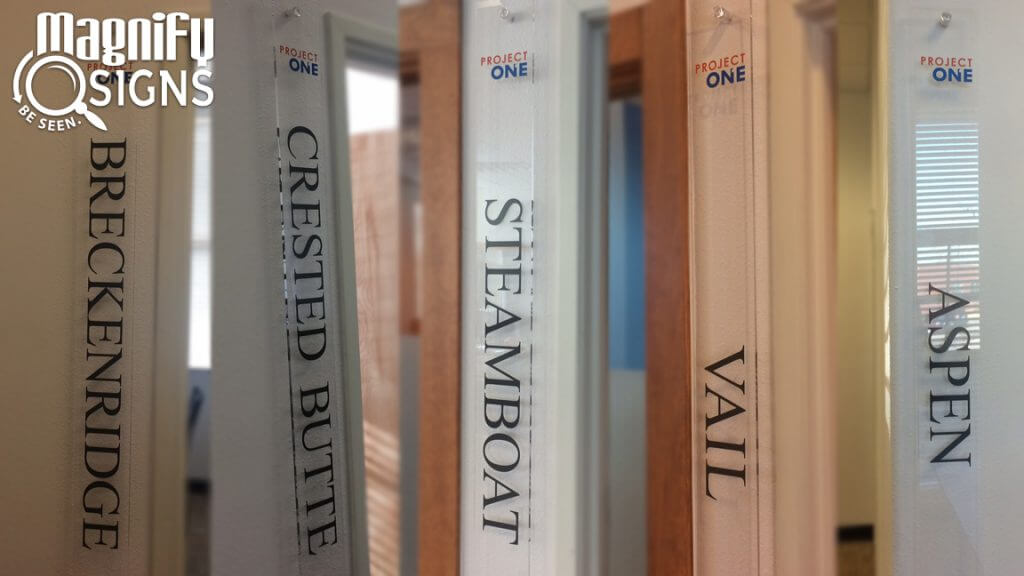 Previously, Project One had Magnify Signs produce and install vertically mounted acrylic panels with a graphic print of their logo and the name of a Colorado mountain for their conference room signs. Since they have rebranded and changed their logo, the sign experts printed the new logo on clear vinyl to replace the previous logo on the acrylic panels.
Re-branding your business can be a difficult process, but the sign experts are always ready to help. If you need to update your company image, be sure to call us here at Magnify Signs to ensure that your new look can Be Seen!