Sometimes, if you're really lucky, Christmas comes early every now and then. For Hill Commercial Construction, Santa decided to swing by early this year with four new pick-up trucks for the company. The only thing these beauties were missing is some much needed company branding.
Pictured above is the side door of one of Hill Commercial's new F150's, with the brand new company logo in black vinyl lettering. But, just like our sign experts, our clients like to take the project a step further. So the owner, Chad Hill, asked "how can we incorporate completed project photos into the graphics?" and the sign experts at Magnify answered with this: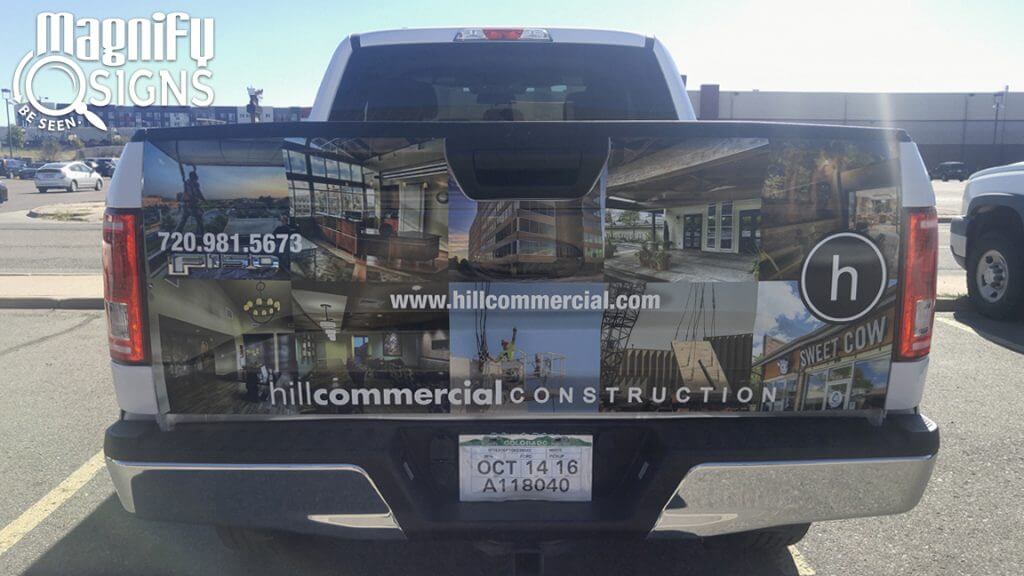 On the tailgate of this brand new truck is a seamless collage of pictures of construction projects completed by Hill Commercial. The dynamic collage is printed on a sheet of vinyl, created specifically for the tailgates of these Hill Commercial Construction trucks. The collage has the company name, logo, phone number, and website all seamlessly embedded into the finished project's artwork.
If you want to go above and beyond with your business signage like Hill Commercial, we'll go above and beyond with you. All you have to do is pick up the phone and call, and make your business Be Seen!
CLICK HERE TO SCHEDULE A FREE SITE SURVEY WITH OUR SIGN EXPERTS, OR CALL (303)-761-9592