Why You Need a Unified Look When Branding a Business?
When you need more people to pay attention to your business, you look for different ways to market it. There are several strategies you can follow to get more out of your marketing efforts. One that stands out is branding.
When planned thoughtfully, branding is an efficient way to give your company a competitive advantage through recognition and mindshare. The key to branding success is to keep a unified look when branding your business.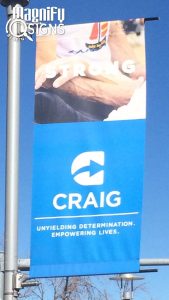 Create a Long Lasting Effect
When marketing your business, you need to build a theme and translate it into tangible representations, like signage. Creating a real image is powerful, especially when your target audience sees it every day.
Custom signage can generate a long-lasting, positive effect when designed carefully. When developing your branding materials, think about what you want people to remember after looking at your sign? What do you want them to feel when they see your logo?
Help Customers Identify Your Business
Consistent branding helps consumers identify your business. It delivers the message you want to send out, preventing any confusion or unintentional false advertising. To achieve this, make sure that your business signs, website, social media presence, and print materials all match. That way, potential customers can recognize your company, gauge the quality of your products and services, and be enticed to visit.
Trigger Positive Memories
Apart from being consistent in your design and marketing, aim to trigger positive memories on your customers. Generally speaking, a simple design is often the best approach.
Also, simple logos on signage are incredibly useful. They will help you endorse your company culture and product quality into a single image that will instantly trigger memories in current and future customer's minds.
Keep everything tight and integrated. Don't just put your logo or business name on a billboard. You need to have your logo and business name where your customer's eyes can see it. Consider different printable options such as custom banners, lobby wall signs, metal signs, acrylic signs, vehicle graphics, exterior signs, and more.

Work with Professionals to Create Your Signage
The best way to achieve consistency is by hiring professionals with years of experience and a unique eye for design and marketing. Quality artwork is completed with uniformity in design and not just beauty in symmetry. For design, production, and installation of indoor and outdoor signage in Denver, contact Magnify Signs today!