More and more companies are adding courtesy shuttles to their business models. Almost everyone knows the shuttles run by hotels near airports. That said, it is far less well known that some universities, too, offer shuttle services to parking lots and park-and-ride locations.
Retailers occasionally offer shuttle services during expos and trade shows. Car dealerships, too, operate courtesy vehicles that allow motorists to drop off their cars and still enjoy transportation to work and other locations until the vehicles are ready for pick-up. Special events shuttles are common sights near the major sports venues.
Courtesy Shuttle Vehicle Graphics Are a Profitable Investment!
With so many different businesses offering this amenity as a value-added service to guests, clients and customers, it only makes sense for the companies to install courtesy shuttle vehicle wraps. Denver companies may provide this service free of charge, but there is no reason that these vehicles should be bland and not do some marketing for the company that is footing the bill. After all, customers are more likely to do business with a car dealership that offers a courtesy shuttle than one that does not provide this service to motorists who just dropped off a car on the way to work.
What are the top three results you see after adding graphics today?
1. Business Marketing
Whether it is the hotel near the airport or the luxury sedan dealership that has set up shop in a prominent part of town, let your name be seen. This is particularly advantageous when shuttling customers to areas where your target demographic works, lives or plays. We recommend the installation of a full vehicle vinyl wrap that controls every aspect of the marketing messages from color selection to graphics spacing and lettering frequency.
2. Brand Awareness
Once again, it is the availability of the courtesy shuttle service itself that helps to brand you as the type of business that truly cares about its clients or customers. Yet now is also the time to take it a step further. For example, when you add a full or partial wrap, you have the power to introduce your boutique hotel near the airport to a clientele in the downtown Denver area that might not have heard of you. Combining your name with its brand is a huge step in the advertising campaign of any business. Since you are already operating the shuttle, why not have consumers make the connection?
3. Set Yourself Apart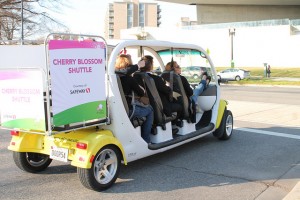 The courtesy shuttle vehicle graphics Denver business owners like to commission go on the latest vehicles. These are not added to old cars or vans. Rather they highlight that the company is financially secure to afford a new vehicle and also committed to customer comfort by choosing only the vans or SUVs with the most comfortable seating options.
As you can see, there is so much more to shuttle graphics than meets the eye. Do not allow your company to be under-represented in a city where plenty of businesses have added this transportation option to their menu of services. Standing out is a key component of the experience. Contact Magnify Signs today to be seen.

Image credit: Elvert Barnes