Outdoor business signs, or your storefront signs, are one of the first things people see when they come to your business location. It is basically the first impression of your business to your customers. This is why it's important to ensure your storefront sign is both functional and aesthetically pleasing.

Types of Signs
When it comes to deciding on the type of custom business sign you want to display, you can choose from several options. 
Before choosing a material for your sign, be sure to think about how much maintenance will be necessary and what aesthetics best match your business.
1 – Vinyl Banner Signs
Vinyl signs offer a lot of possibilities as far as color and style go. They are extremely versatile, so just about any business can fit the sign's style to their brand. 
Despite the name, vinyl banner signs can actually be used for anything from banners to nylon flag signs—a common use for them. Nylon flag signs are a great and inexpensive way to draw attention to your business or event.
Vinyl banner signs are far less expensive to make than any other type of sign. However, you should also consider the low level of durability they offer. They usually require a lot of maintenance and replacement, which could cost more in the long run.
The most common types of material used include nylon, plastic, and vinyl. If you have decided to use a vinyl banner sign, make sure that you choose a heavy-duty fabric that is also fade-resistant. Other than the material itself, you will also need to consider the cost of the required hardware for installation and the installation of the sign itself.
While this is a completely different style of sign, an awning sign still falls into this category. Putting your business name or logo on an awning sign is more expensive, but may also provide a grand or homey feel depending on the style of your awning. These awnings can give your business an attractive and more noticeable storefront because it's adding more dimension to your building. 
Other than the aesthetic that an awning adds to your business's visual appeal, it also offers shade for both your customers and your energy bill. In fact, many businesses report a decrease in their energy bills when using an awning above their entrances.
2 – Cut Vinyl applied directly to Glass Surface
Your logo or business name can simply be displayed on your building's front windows. Paint is the most common option, but using vinyl applied directly to the glass surface can convey the same concept. 
Cut vinyl applied directly to the glass surface is on the less expensive side of signage options, but still offers an attractive and modernized look to your building and business. 
Cut vinyl signs are made by cutting your design out of thin, self-adhesive material. This makes it a cost-effective and ideal solution for signage such as wall decals. The overall cost depends on how complex your design may be as well as what colors you may wish to use.
However, you need to check that this solution suits your needs. Cut vinyl works best for vertical windows, but may not be suited to windows with built-in heating, defrosting elements, wipers, windows with special coatings, windows that crank or roll down, emergency window exits, etc.
3 – Aluminum Signs
Aluminum signs are usually made from aluminum composite materials and have custom graphics on the face. While these signs are more expensive than vinyl banner options, they are weather-resistant, extremely durable, and thick enough for almost any indoor or outdoor use. 
Aluminum signs can be cut to any shape and are perfect for bright, eye-catching colors. The cost depends on the paint or finishing used, the size, and the font or logo printed onto them. 
Aluminum signs can give your business a modern, vibrant, trendy feel. If this fits your brand, an aluminum sign may be the way to go. 
The paint or stain on the piece may also determine how your brand is displayed, so consider the style before making your final decision.
4 – Custom-cut Metal Letters and Logo
By cutting up metal into your brand or logo, you can create an abstract sign. You can further improve it by adding some lighting behind to shine through. This could create interesting shadows and a grungy or trendy look to your business. 
These signs are typically made from painted aluminum or have a brushed aluminum finish.  There are several different kinds of metals and colors to choose from. For example, a business with a clean and modern identity may use a dark gray or black metal, whereas a business that has a more rustic branding could use a brown, copper, or rusted metal design.
This type of storefront sign looks stunning on the right business building.
These signs are usually installed directly onto the building, one letter at a time.
Metal letters are three dimensional and add a textured look to the front of your building. Again, use dramatic lighting to brighten the front of your store. This adds additional interest and makes it easier to see your building in the dark. Adding lights to the rim of the letters, in particular, can cast dramatic shadows.
5 – Custom Light Cabinets
These are custom light cabinets made with an aluminum cabinet. They have internal LED lights backlighting a polycarbonate sign face. The face has a full-color custom graphic of logo and letters.
This is a highly customized solution for an eye-catching and highly professional-looking storefront. It allows for unique and intricate designs, separating you from the competition.
6 – Internally Illuminated LED Channel Letters and Logo Cabinet
LED channel letters signs are one of the most interesting types of signage for many people. When the letters of your sign light up, they add a whole new look to your business. 
LED lights are very bright, have an extremely long life (over 100,000 hours), and are both durable and low-maintenance. They also have a low power consumption and use no mercury or toxic chemicals to produce light, unlike older neon lights, making them environmentally-friendly.
If you're a business that often runs later into the night when it gets dark, a sign made of LED lights may be perfect for you!
7 – Electronic Message Centers (EMC)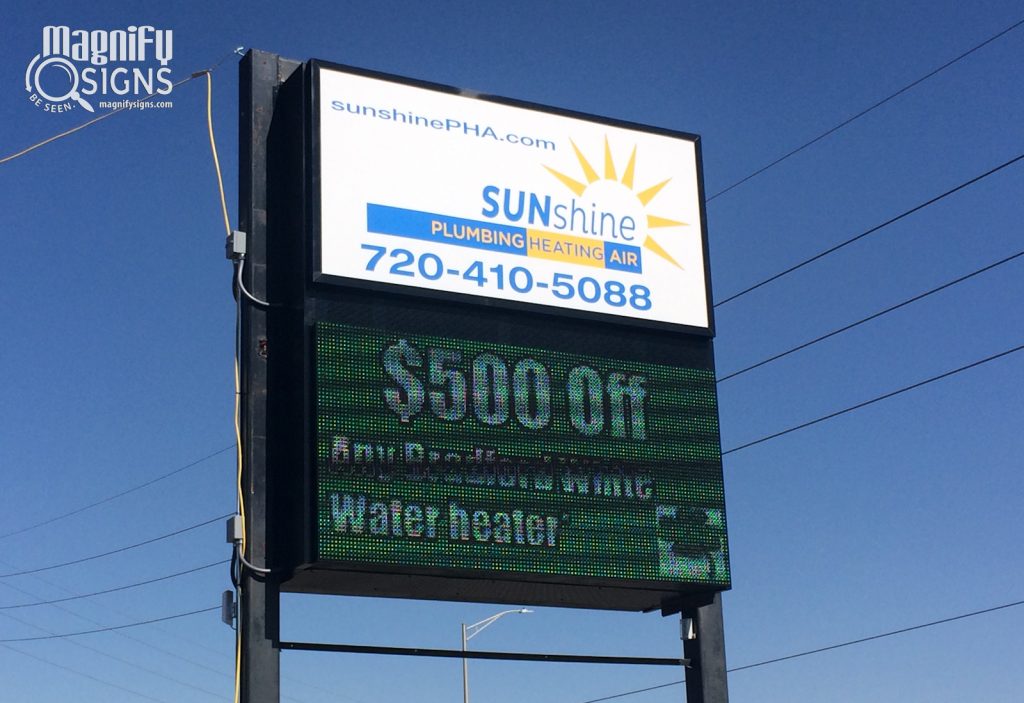 This is the most high-end signage solution. Electronic Message Centers (EMC) are digital screens that let you display your custom messages. 
They are the most versatile solution, letting you adapt on the fly your message to your marketing. You can even program them to display a different message depending on the time of the day.
Be sure to take advantage of the flexibility they offer by choosing a great message. Good digital content will make it possible for you to engage your target audience and improve the way you communicate your brand.
This is especially useful when you use motion to capture your customer's attention. Use icons and graphics to complement your message and direct your customers to any sales and time-sensitive promotions.
For example, imagine you are taking your son to buy his new sneakers. The outdoor LED sign announces a sale on a particular brand or item. Lured by this, you enter the store. Inside, an indoor LED display shows a tweet or photo of a famous soccer player wearing those same sneakers. The chances of a sale just skyrocketed!
Location, location, location (and other details)
When it comes to choosing the right storefront sign for your business, location is important for more than one reason.
Where is your business located?

If your building is in a place with a lot of bad weather, you may want to decide on more durable material. If it's along a street with several other businesses, you may want a sign that sticks out into the sidewalk a bit.
Where will you put your sign?

Awning signage often goes above windows and doors. But will you place the sign directly across the front of the building? Will you place it in a location that sticks out into the street or sidewalk so it's more easily visible? Or will you do both?
How many signs will you have?

Before deciding on a single type of sign, consider how many you want on your building. Some businesses will do a small logo on the glass of their front doors as well as across the front of their building. Others will imprint their name on all of these places and add a banner as well. Think about how many you will need for your business purposes.
How big will they be?

This all depends on what kind of business you are and where you are located. If you have multiple signs, think about what sizes would look best in different locations on your building.
Magnify Signs can help you decide on the perfect type of sign for you and your business. Call us at  303-647-9005 or
click here to get your free quote now
!