Trailer graphics for Englewood, CO, landscapers have to be easy to read, easy to associate with the niche but sufficiently different from the designs used by other professionals in the business. This can be a tall order. Case in point is B&D Landscape, which is headquartered in Morrison. Providing full-service landscaping services to the Greater Denver Area and its surrounding communities, the company contacted Magnify Signs to install trailer graphics.
Adding Vehicle Vinyl Lettering and Graphics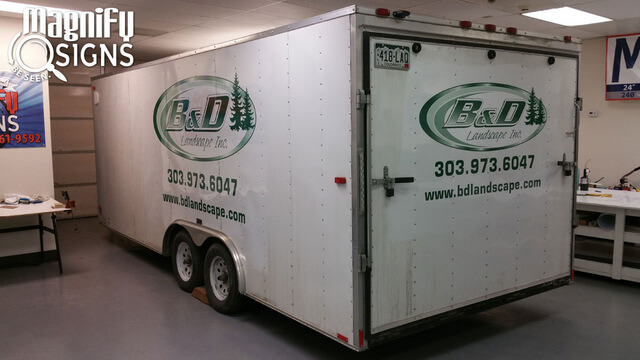 Because the trailer is large and white, it presented us with the challenge of attaching vehicle vinyl graphics to a surface with rivets. Could we do it? Of course! We used 3M materials and ran the graphics in one day. We added a laminate to the lettering and decals, which helps to protect the printed material against water and sun damage. The trailer now features the landscaper's unique logo, contact information and website address. We placed this look on three sides of the vehicle, which now turns it into a marketing machine.
If you have been considering the addition of trailer vinyl lettering in Englewood, CO, and its surrounding communities, talk to our experts today for more information. We specialize in the targeted branding of a wide variety of companies and niche businesses.
Enhanced Exposure
In addition to your other marketing strategies, you greatly enhance the visibility of your business simply by placing branding vinyl lettering and graphics onto your truck, trailer or other vehicle. When you drive through the neighborhoods to your next appointments, those who have received your mail marketing material can now put your vehicle into context. In so doing, your enhanced exposure provides you with increased name recognition.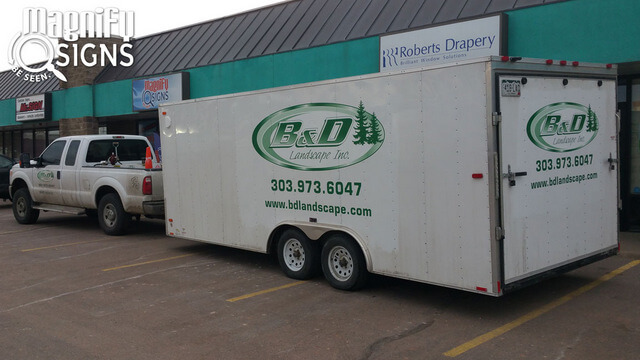 Money-Saving Marketing
Is it wise to spend money on an unmoving billboard ad? It sounds like a good idea – particularly if this billboard is located along a busy highway. However, if roadwork suddenly dries up the stream of traffic, or if the traffic is primarily comprised of truckers on their ways out of town, you are most likely not connecting with your target demographic. Moreover, the billboard is expensive and as soon as your contract expires – usually after two to four weeks – your marketing message is displaced by the billboard message of the next paying client. When you add vinyl graphics to a work truck or trailer, you get about five years of uninterrupted marketing from the product. In addition, you choose the areas where this marketing message is displayed. This is simply not something that a billboard ad accomplishes.
Superior Branding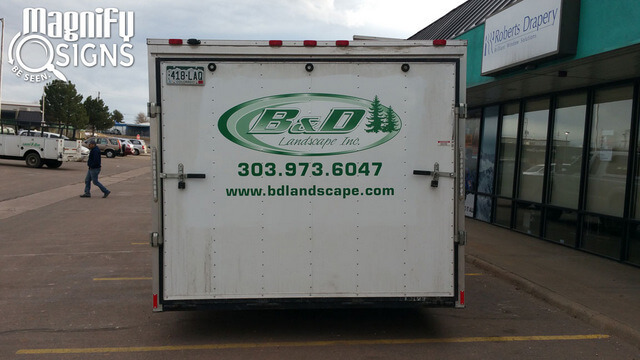 Create increased brand awareness by combining the name of your business and its logo with a specific product or service. This may be your most popular product or the new service that you just recently began offering to the public. It is not unusual for our clients to have a standard marketing message in place, which they sometimes ask us to upgrade or update to include new information. The new vinyl blends in perfectly with the product that we already installed a few years ago.
Call us today for more information on trailer vinyl lettering and similar products.