Magnify Signs was created out of the Roots' (our owners) desire to invest more into their local community, so we especially enjoy helping business who help the community in turn. Such is the case with the nonprofit Good Turn Cycles. Good Turn Cycles' mission is to help people achieve better health and provide job training to young people who find themselves in challenging circumstances. They accomplish this by selling and renting electronic bikes, and teaching at-risk kids how to fix them.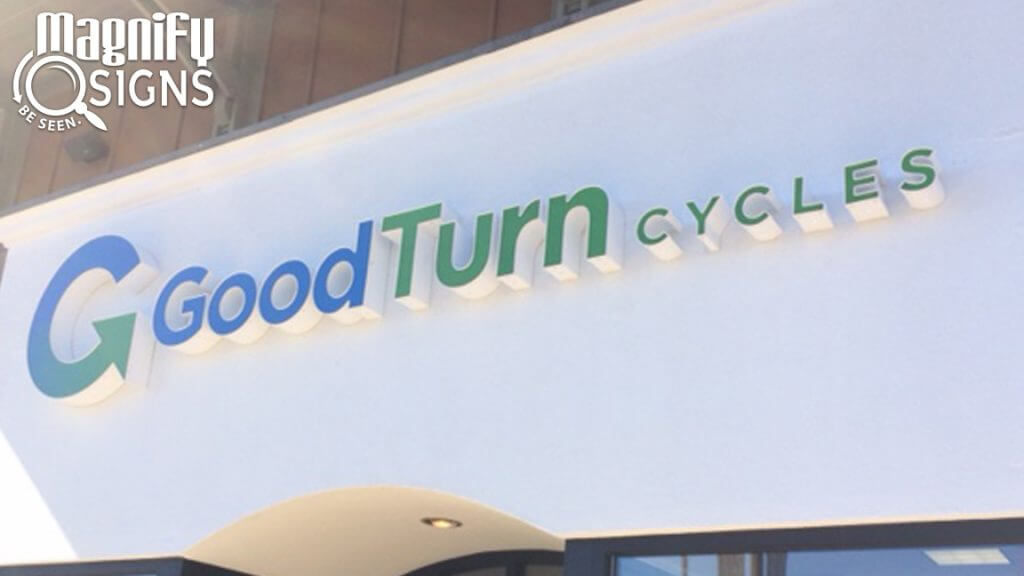 To help further Good Turn Cycles mission, the sign experts at Magnify installed these dynamic channel letters above the front door of their new business. The store is in the Aspen Grove shopping center in Littleton, CO. The channel letters consist of "Good" in blue and "Turn Cycles" in green, with "cycles" being made up of smaller lettering. To the left of the letters is the company logo, an arrow curving into a circle, and containing a color gradient, changing from blue to green. The logo and letters are also LED channel letters wired to light up at night.
Helping small to medium sized businesses and nonprofits is how Magnify Signs invests in our local community. If you want to build a business (or own a business) that seeks to invest in your community, Magnify Signs is the signage partner for you. Call us now, and we'll help your mission Be Seen.