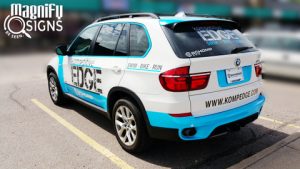 Littleton politicians have assigned the motto "Anything But Little" to this city. Top employers include Long Building Technologies, Setpoint Systems and a broad range of IT and construction outfits. Unincorporated areas include Highlands Ranch as well as Heritage Hills. Standing out with mobile advertising is a must when doing business in a city that covers almost 14 square miles. How do you go about finding the right vehicle graphics Littleton, CO, business owners can rely on?
Work with a Company that Understands the Area
When you entrust your business truck or fleet vehicles to a signage maker who serves business communities in and around Littleton, Denver and Centennial, you get the expertise of a local who understands the neighborhood corporate climate. This puts you in the driver's seat when discussing graphics that work and those that have not generated a lot of consumer response. Ordering your vehicle graphics online from a company a few states away might save you a bit of money, but you run the risk of investing in a graphics package that simply does not appeal to your target demographic.
Beware the One-trick Pony
Ideally, the company offering to do your vehicle graphics should give you options. A company that only offers you the manufacture of decals, but can give you no information on partial wraps, is not in a good position to provide you with expert advice. Essentially, you have four options.
Lettering. Vehicle vinyl lettering identifies the name of your company as well as any contact information you want consumers to use. In some cases, you may also ask for the addition of a motto or tagline.
Spot graphics. These graphics fit anywhere on your vehicle and feature colorful images as well as lettering. Apply them to the doors, the hood or the rear of the vehicle.
Partial wrap. A partial wrap incorporates the color of your vehicle into the design of the marketing message. Depending on your company colors and graphics package, this is a cost-saving solution to your mobile marketing needs.
Full wrap. In this scenario, the graphics package includes a background color, numerous graphics, lettering and a combination of marketing and branding messages. It is the ideal form of mobile advertising.
Entrusting Your Work to an Expert in the Field
The professionals at Magnify Signs design, manufacture and install the vehicle graphics Littleton, CO, business owners rely on to stand out and be seen. We start with a client consultation, which allows us to learn more about your marketing message as well as the make and model of the vehicle(s) you would like us to treat. We design a look that works well on the vehicle and brings out the style elements that expertly brand your product or company.
When you want us to treat a fleet of vehicles, we ensure that you are satisfied with the look of the initial package and then adapt it to suit all vehicle types in your fleet. We have worked with companies that had us wrap anything from full-sized moving trucks to small scooters. Call us today to get started.