Express Your Brand in a Big and Bold Way
Large Format Graphics are perfect for getting people to attend Concerts, Conventions, Trade Shows, School Events, Sporting Events, Grand Openings, and more. Their size alone can capture the essence of the message you want to transmit with no limit to color or font choice! Here are some applications for this fantastic advertising tool.
Banners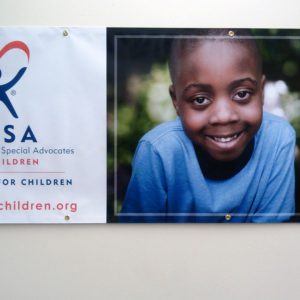 Banners can be produced in almost any wide format size or quantity, single color to full-color photograph-like displays. This product can be used both indoors and outdoors. Use them for sports events, sales promotion, marketing, and fundraising. They are amazingly effective in showing support for your team, whether it is a local team or your city sports team.
Posters
Ideal for point of sale applications, they can also be used as billboards. You can go up to 58 inches wide by as long as 48 feet! Use them as a billboard to make a big impression.
Wall Murals
Wide format graphics can be used to create unparalleled wall murals. They are made of an adhesive vinyl material, applied directly to the wall from floor to ceiling and end to end. Its image is printed with the brilliant color saturation of HP printers. Use custom wall murals to communicate your brand and vision more effectively than any other sign in the office.
Banners, Posters, Custom Wall Murals are among the most popular uses for large format graphics banners.
Quality Large Format Prints in Denver
When you are ready to go big, Magnify Signs can handle any large format digital print you need. We only use high-quality print materials and inks and print in our state-of-the-art HP 360 Latex printer carefully operated by skill team of large print specialists. Our large format products are offered in:
High resolution
Vibrant colors
Durable materials
UV laminate protection
Custom finishes
Our large format graphics can also be printed in weatherproof materials.
To get started on your custom, large format print project, call us at 303-647-9005.