Let Your Customers Know about Your Holiday Specials with Our Creative Marketing Solutions
November and December are great months for businesses –and people, too! We get to take time to slow down our crazy lifestyles and give thanks for all the good in our lives, plus we celebrate and enjoy the Holiday Season, play in the snow, and spend quality time with our families and friends. That's not all, as businesses also get to have fun with all the sales they try to make at the end of the year!
Is your company ready to promote the unique products, services, or offers you have created for the top-selling season?
If not, then you'd better make sure your customers know what you have to offer by promoting your events and special sales with our custom signage and marketing solutions. At Magnify Signs, our goal is to help small and medium businesses in Denver get noticed and grow with quality and professional signage.  
Custom Marketing Solutions To Promote Your Holiday Sales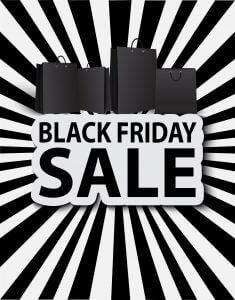 CUSTOM SIGNS
Your brand is your identity, and we make it possible to build a stronger brand with a customized business sign. Our graphic artists understand that your business requires custom signage highlighting your brand, location, and services offered. Whether you need a lobby, interior, or exterior sign for the Black Friday and Holiday promotions, we have the right sign for you. Our options include custom cut vinyl lettering, coroplast signs, A-frame signs, aluminum signs, and much more!
BANNERS
Banners are signs made from an inexpensive fabric material with custom print graphics mounted on the face. These signs don't take long to produce, are re-useable, and, most of all, are customized to advertise anything you want. Because they serve as a more temporary outdoor/indoor display, banners are ideal for promoting special events, sales, and seasonal offers or products.  
VEHICLE WRAPS
Custom Vehicle Wraps are a great way to advertise your company in the field without even having to try. Promote your business or special promotions on the go, everywhere your car goes! Vehicle wraps are considered one the most effective marketing solutions, impacting a much larger audience for a relatively small investment.
Please take note of our Thanksgiving schedule:
Open normal hours from Monday thru Wednesday, and will be closed on Thursday and Friday.
At Magnify Signs, we are sales and marketing professionals with more than five decades of experience, ready to assist you in creating the custom signage that stands out and attracts your target audience's attention. Our sales and design teams understand that for us to be successful, we need to build signage solutions that drive customers in to buy from you, and we are excellent at it. Contact us today and let us show you how we create high-quality and durable signs in Denver with unparalleled customer service.